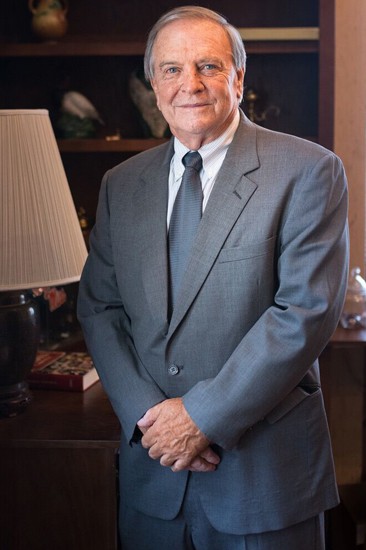 Charles M. Merkel, Jr.
Managing Member
Email: cmerkel@merkel-cocke.com
For more than 40 years, Mr. Merkel has personally delivered more than 400 jury presentations in the representation of personal injury victims whose cases involved complex medical and technical injury mechanisms and causation problems.
After graduating magna cum laude from the University of Mississippi School of Law in June 1966, Mr. Merkel accepted an appointment under the U.S. Department of Justice Honors Program and served for 4 years in the tax division of the Department of Justice in a refund trial section, trying tax refund cases in the U.S. District Courts over a five-state area. In October 1970, Mr. Merkel returned to his native Mississippi, accepting a position with the firm of Sullivan, Dunbar & Smith. In 1973, he was involved in the formation of the firm of Holcomb, Dunbar, Connell & Merkel, where he was involved primarily in litigation until the spring of 1982, when Mr. Merkel and Mr. Cocke formed Merkel & Cocke, P.A. for the purpose of handling complex plaintiff's litigation with emphasis in medical malpractice, product liability, toxic torts, drug reactions, brain damage cases, and in general, all catastrophic personal injury cases.
Mr. Merkel has received multiple jury awards ranging from $1 million to $20 million, and many more million-dollar settlements. He is active in trial lawyer activities and is a frequent lecturer on trial technique and advocacy, appearing at seminars sponsored by the Mississippi State Bar, Mississippi Association for Justice, American Board of Trial Advocates, and others.
Mr. Merkel, a former college baseball player at Ole Miss, is a sports enthusiast and lifelong Ole Miss and NY Yankees fan. He enjoys playing golf and traveling with his wife and children, and is an avid duck hunter and outdoorsman.
Areas of Practice
Litigation & Appeals
Personal Injury — Plaintiff
Toxic Torts
United States Income and Estate Tax Litigation
Professional Malpractice Law
Bar Admissions
Education
J.D., magna cum laude, University of Mississippi School of Law, Oxford, Mississippi, 1966
LL.M., Taxation, Georgetown University Law Center, Washington, District of Columbia, 1969
B.A., magna cum laude, University of Mississippi, Oxford, Mississippi, 1964
References
Professional Associations and Memberships
Honors and Awards
Fraternities/Sororities