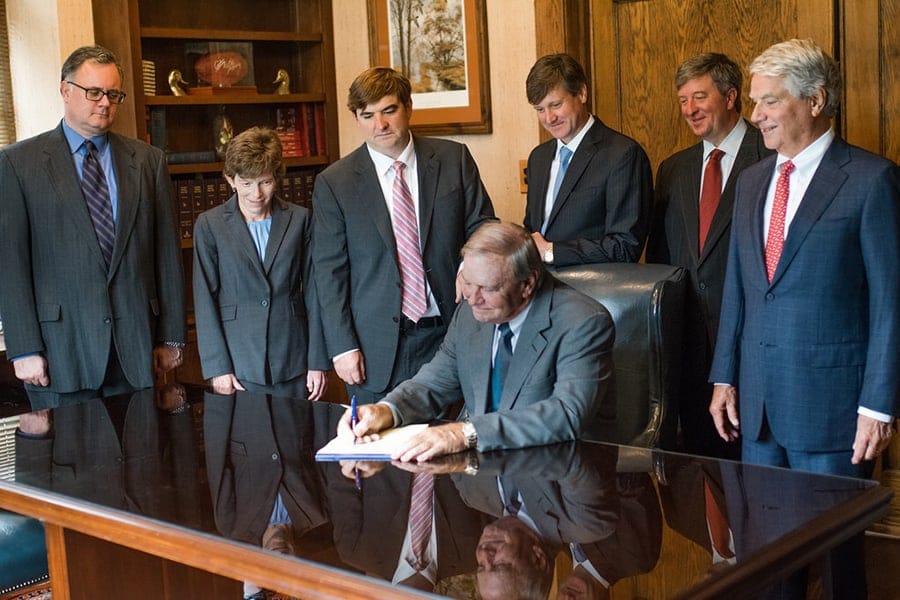 Experienced Injury Lawyers for Mississippi's Most Complex Cases
The personal injury and medical malpractice law firm other lawyers trust
For more than three decades, the law firm of Merkel & Cocke, P.A. has been assisting clients with a variety of legal needs. From complex personal injury claims to intricate contract disputes, our reputable Mississippi attorneys consistently provide comprehensive and quality legal representation. We approach each case as a team, working together to develop the best strategy for every client. This dedication and hard work has helped us earn a reputation for excellence within the legal community. We are proud to be the law firm that other lawyers turn to when they need assistance.
Serious representation for your most serious legal needs
From our office in Clarksdale, our legal team represents clients throughout Mississippi, Tennessee and Arkansas in a variety of cases, including those involving:
Personal injury. Our knowledgeable lawyers obtain compensation for individuals who were injured by the negligent actions of another. We aggressively fight for the rights of injury victims, working to obtain settlements and verdicts that cover medical expenses and lost wages so they can move on to live their highest quality lives.
Product liability. Manufacturers, designers and retailers owe consumers a duty to provide products that properly work for their intended purpose. When individuals are injured or made ill by a defective product or a dangerous drug, we work to hold all responsible parties financially accountable.
Mass torts. When a defective or dangerous product causes injury, illness or death to multiple parties, a mass tort action may be the most appropriate path forward. From Bair Hugger surgical warming blankets to silica-based illnesses to Xarelto claims — and everything in between — Merkel & Cocke has the resources, skills and experience to handle these complex claims.
Catastrophic injuries. While every personal injury is a serious matter, some harms have life-altering effects. Injuries such as burns, amputations and traumatic brain injuries are considered catastrophic. Claims involving these injuries often name multiple negligent parties. Our team of lawyers has the higher level of skill and legal acumen necessary to win these complex cases.
Premises liability. Injuries sustained on someone else's property may be compensable under the laws of Mississippi, Tennessee and Arkansas. Whether you were injured in a casino, on a worksite, while shopping or on public property, we may be able to help you recover compensation for your injuries.
Wrongful death. Losing a loved one is always difficult, no matter the circumstances. However, if your loved one died because of the negligent actions of another person, there may be legal remedies available. A wrongful death claim can help you protect your family after such a devastating loss.
Medical malpractice. We trust medical professionals to use appropriate care and expertise when providing treatment. When they fail to meet the standards of their profession and act in a negligent manner, patients can face further injury or even death. Our team has a proven track record of obtaining successful settlements and verdicts for our medical malpractice clients.
Chiropractor malpractice. One wrong move by a chiropractor can cause a stroke, paralysis or have other serious repercussions. You can end up with permanent disability from a stroke caused by a tear in the vertebral artery, or chronic painful neck or spine problems. We hold chiropractors accountable when their negligent actions injure a patient.
Hunting accidents. Even the most experienced hunters can sustain serious injuries while out in the Mississippi woods. Defective tree stands, defective guns, and inadequate gun safety measures can lead to life-threatening injuries.
Farm injuries. Farmers have to grapple with a number of conditions that could lead to farm injuries. If you were hurt in a crash, by a tractor, combine, cotton picker, or other farm equipment or because of someone else's negligence, we can help.
Construction injuries. Mississippi has had a serious worker shortage in the field of construction. With fewer men and women to do the jobs, the chances of a safety violation taking place or an improperly trained worker being put on a job are increasing every day. If you were hurt while working construction, you have options available to you for collecting compensation.
Workers' compensation. Workers' compensation is a benefit system put in place to help injured workers. Yet, far too many injured workers have trouble when trying to collect the benefits to which they are entitled. From slow payments to denied claims, our experienced Mississippi workers' compensation attorneys fight for the rights of injured workers.
Casino litigation. Tourists from around the globe descend on Mississippi to try their luck in casinos. When these activities lead to harm or injury, our legal team has the knowledge and experience to provide comprehensive representation. From slip and fall injuries to disputes over winnings, we are the law firm you want on your side for casino litigation.
Legal malpractice. When lawyers fail to provide adequate representation and guidance, clients may be irreparably harmed. Merkel & Cocke is one of the few law firms in Mississippi that represents victims of legal malpractice and their families.
Contract disputes and commercial litigation. Contracts are a staple of conducting business and making commercial agreements. Disputes over contract language and party performance are common within business relationships. When commercial clients find themselves in a contract dispute, they turn to our team of seasoned attorneys for assistance.
Will contests. If you are embroiled in probate litigation because heirs and beneficiaries are contesting the will, you want a skilled trial lawyer on your side. Let us put our deacdes of experience to work for you.
Put more than 200 years of combined experience to work in your case
At Merkel & Cocke, we commit ourselves to working for the wellbeing of each and every client. We handle personal injury cases on a contingency basis, which means that our personal injury clients pay nothing until we secure a settlement or verdict. Our team of talented attorneys understands the challenges of pursuing a legal claim. That is why we provide you with guidance you can trust through every step of the process. Call us at 662-627-9641 or complete our contact form to schedule a free consultation. From our Clarksdale office, we are proud to represent clients throughout Mississippi, including in Tupelo, Jackson, Cleveland, Indianola, and throughout the Gulf Coast Region. We also handle cases in Tennessee and Arkansas, and in federal courts in all three states.