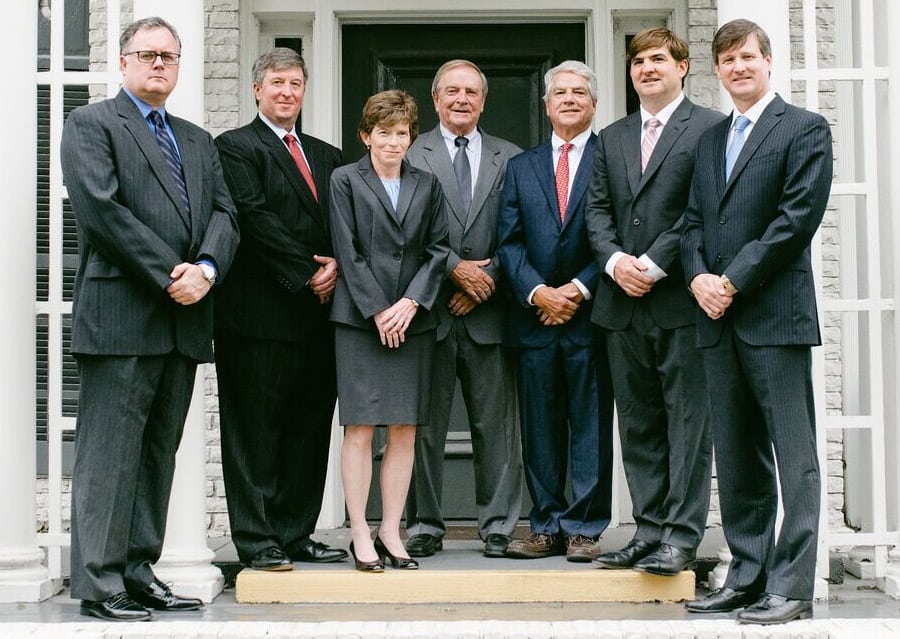 Merkle & Cocke: Trusted Partners For National Law Firms
Professional collaboration and co-counsel for the best results for your clients
As an attorney, your priority is to help your clients through every phase of their legal issues. There are some cases, however, where your firm may lack the time or resources to try a case in the way it will most benefit your client. In circumstances like these, a referral to a local and experienced law firm can put your client into trusted hands and improve their chances for a successful outcome.
The Mississippi personal injury attorneys at Merkel & Cocke, P.A. are proud to support and collaborate with local and national law firms, taking on complex cases or assisting as co-counsel on a variety of cases. Our team looks forward to partnering with firms in Mississippi, Tennessee, Arkansas, and across the country. Contact us today to set up a consultation.
Our promise to you
When you make the decision to partner with another law firm, you want to ensure the arrangement benefits both your client's and your firm's best interests. We invite you to review our attorney profiles to learn more about our history of success and our breadth of experience.
You and your clients can expect the following and more when you refer a case to Merkel & Cocke:
Responsive, organized team. From our attorneys to our support staff, we maintain a positive environment that keeps our clients informed and in the loop. We keep their cases on track and running efficiently.
Dedicated lawyers. We care for our clients – all of them. We stay mindful of incurring expenses and we ensure your client feels well cared for. Our focus, as always, is on achieving a successful outcome and guiding the client through the process.
Substantial experience. Our attorneys have the experience needed to secure the outcomes and compensation you and your clients expect. We stay current on state and federal legislation regarding personal injury law and other related topics.
Resources. We put all our resources to work, which gives us the means to deftly handle complex litigation and trials. Our knowledge, tools, and access to a network of experts allows us to tackle cases successfully and effectively.
We put our skills, knowledge, and winning track record to work for you.
Cases we handle
Merkel & Cocke has a national reputation as a recognized personal injury and medical malpractice law firm. That reputation makes us an excellent referral choice for cases that may be geographically difficult or cost-prohibitive for your firm. Don't hesitate to consult with us about cases regarding:
All of our attorneys are highly experienced litigators and are admitted to practice in every state and federal court in Mississippi. Several of our lawyers are also admitted to practice in front of the U.S. Supreme Court, U.S. Tax Court, the U.S. Court of Appeals, Fifth Circuit and Eighth Circuit, and in the surrounding states.
The Merkel & Cocke team is consistently recognized by publications including Super Lawyers, Best Lawyers in America, National Trial Lawyers, Lawyers of Distinction, America's Top 100 High Stakes Litigators, American Board of Trial Advocates, Best Attorneys of America and others.
Helping you manage out-of-state cases
Attorneys understand how local laws vary across the country, with new legislation being passed every year and current legislation being updated and revised. Many national law firms are known for their excellent work throughout the United States, taking on successful cases from coast to coast. However, it can be nearly impossible to be thoroughly familiar with every detail pertaining to the local justice systems.
This is where Merkel & Cocke provide trusted and reliable local counsel. We help navigate the local court system, using our existing relationships to advocate for your client and provide them with a winning edge in their case. We know who to expect and what to expect, which is why the services of local counsel are so essential for out-of-state law firms.
When you partner with Merkel & Cocke
If you choose to work with our firm on your case, you can decide on how involved you wish to be. In some cases, an attorney will refer a client to us and end their involvement there. Other attorneys prefer to be updated on the progress of the case without an active role. Still others decide to participate in varying degrees of involvement.
The level of involvement in your referral is up to you, and how much you would like to work on the case is up to you. We can customize our partnership to benefit all parties equitably.
Our firm is set up to ensure the right attorney is dedicated to your case – and stays with your case until it's resolved.
Our fee structure
A division of a fee between lawyers who are not in the same firm may be made only if:

the division is in proportion to the services performed by each lawyer or each lawyer assumes joint responsibility for the representation;
the client agrees to the arrangement, including the share each lawyer will receive, and the agreement is confirmed in writing; and
the total fee is reasonable.
We don't increase the overall attorney fees for your client, and all fees will be mutually agreed-upon, with a copy of the agreement provided to all parties.
Sophisticated local counsel for complex litigation in Mississippi
At Merkel & Cocke, P.A., we welcome collaboration and referrals from attorneys and law firms across the nation. Our reputation and knowledge as trusted local lawyers makes us an ideal choice when you're seeking local counsel or partnerships. We are proud to represent clients throughout Mississippi, including the Delta, Tupelo, Jackson, and throughout the Gulf Coast Region. We also handle cases in Tennessee and Arkansas. Please call 662-627-9641 or complete our contact form to get in touch today.