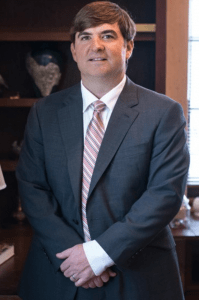 Merkel & Cocke, P.A. is proud to announce that Charles M. Merkel III has been named to the 2019 Best Lawyers in America list for his work in Medical Malpractice Law – Plaintiffs. Mr. Merkel has been named to the list every year since 2012.
Best Lawyers is the foremost peer-reviewed awards process in the country. Every year, lawyers from throughout the country are nominated for their work in 145 different areas of practice. Once nominated, their names are sent for review by their peers, all of whom have been named to the Best Lawyers list. This feedback is later reviewed and evaluated, and candidates' names are put forth by the reviewing panel. All candidates are then vetted to ensure they are in good standing with the Bar associations. Final candidates are named, and both the attorneys and their firms are informed of the selection.
About Charles Merkel III
Charles Merkel III is an awarding-winning medical malpractice and personal injury lawyer. A Clarksdale native, Mr. Merkel joined Merkel & Cocke, P.A. in 2002. He currently sits on the board of North Mississippi Rural Legal Services, and is an active member of St. George's Episcopal Church.
Mr. Merkel's practice encompasses all areas of injury and malpractice law, though he has a special affinity for products liability and chiropractic malpractice claims. He is licensed to practice before all state and federal courts in Mississippi, including the U.S. Court of Appeals for the Fifth District.
Since he began practicing law, Mr. Merkel has been recognized by both peers and clients alike for his commitment to his clients, and for his dedication to the highest ethical standards of his field. He has been named to the Top 100 Trial Lawyers list, presented by The National Trial Lawyers, every year since 2014, and was recognized by the organization in 2012 as Top 40 Under 40. In 2018, he was selected as a Top 10 Attorney by the National Academy of Personal Injury Attorneys, and by Lawyers of Distinction in 2017. Mr. Merkel has been named to Super Lawyers since 2016, and was selected for their Rising Stars list from 2008-2013.
We are very proud of Charles for being named, once again, to the Best Lawyers list. We hope you will join us in congratulating him for this latest distinction.