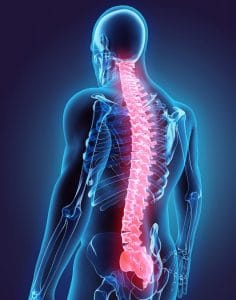 A recent uplifting story in Nature International Journal of Science reported on the thrill that Rob Summers, who was paralyzed from the chest down, felt when he realized he could wiggle his toe. The neurophysiologist, Dr. Susan Harkema, at the University of Louisville in Kentucky ran a few physical tests to confirm the wiggle was no accident. In 2009, Dr. Harkema had implanted tiny electrodes in his spine hoping to show that the spine "contains all the circuitry necessary for the body to stand and to step." She wasn't trying to restore his ability to move.
For decades, medical researchers were focused on restoring the connections between the brain and the extremities. The implant of the electrodes offers new hope. It showed that even for people with severe spinal cord damage, some connections between the spine and brain might remain intact, and that the electrodes could help restore those connections.
More recently, research in Kentucky, Minnesota, and Switzerland has found that the stimulators (most of which are designed to manage pain) have now helped about a dozen people "flex their legs or walk with support – for up to 1 kilometer in some instances." The stimulators also seem to help with bladder and bowel control, sexual function, and blood pressure. The results are providing hope that the quality of life for some people paralyzed years or decades ago may be able to improve with the new stimulators.
Thousands of people are now on waiting lists to get into the various simulations trials. Other efforts to help people paralyzed from spinal-cord damage, such as stem-cell therapy, are also being explored but have yet to yield positive results. Actor Christopher Reeve, who played Superman in the movies, had hoped stem cells would help him.
"Epidural stimulators, which deliver current to the lower part of the spinal cord," have been used since the 1960s to help people with chronic pain. Researchers previously found that the stimulators helped to control the rate of involuntary spasms. Other studies hinted at the possibility that stimulators might provide more hope for helping patients who, unlike Rob Summers, had "some sensation and movement in their lower bodies."
The patient's heartwarming story of persistence
During 2006, Rob Summers was training for the college baseball season as a pitcher. One evening, a car struck him and sped off. He laid there until the next morning when a neighbor found him. A month later the doctors told him and his family, "You're never going to walk. You're never going to feel anything."Summers rehabbed for two years, gaining some sensation in his limbs but he couldn't move his lower body. He and his family sent out "more than 200 e-mails to research facilities around the world —Israel, Europe, Russia, Cuba, Japan, China, South America, you name it."
Ultimately, he was connected with Dr. Harkema who had launched her own lab at the University of Louisville. Summers and his dad flew to Louisville where Dr. Harkema accepted him into the program. For two years, non-stimulation approaches were examined without success. Then in December 2009, Dr. Harkema's team inserted the 16-electrode stimulator between his vertebrae and his spinal cord.
"Harkema's team hoped to kick-start the circuitry required for standing and stepping in the spine and legs, but they weren't expecting to get any help from the brain." Dr. Harkema has published several studies since the initial 2009 implant about the progress of stimulator research for paralyzed patients.
In autumn 2018, three teams published results on the first eight trial participants. All told, six managed some form of walking across the ground with assistance such as harnesses, crutches or parallel bars. The other two experienced benefits, too."
Doctors are now beginning to think the stimulator research is beginning to feel like a breakthrough.
At Merkel & Cocke, P.A, our injury lawyers fight aggressively to hold wrongdoers accountable for the physical pain and suffering they cause. We work with doctors to determine the extent of the damage and to budget for the medical treatments spinal-cord patients need to better their lives. For help now, call us at 662-627-9641 or complete our contact form to schedule a free appointment. We represent injury victims throughout Mississippi, and maintain offices in Jackson, Clarksdale, and Oxford.