Exploring the Costs of Severe Burn Injuries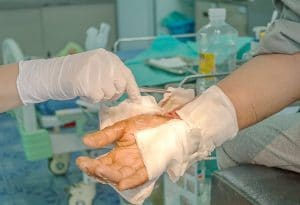 It's quite common for someone to suffer a minor burn when cooking dinner or lighting a cigarette or cigar. We either aren't paying attention to what we touch or we just make a mistake and hold the flame too close when lighting.
These burns are very superficial, don't do a lot of damage to your skin, and heal almost perfectly. On the other hand, thousands of people suffer severe burn injuries every year across the country. These burn injuries can cost thousands of dollars in treatment.
The impact of severe burns
Severe burns lead to roughly 3,400 deaths per year in the United States. For those who survive a severe burn incident, the cost of treatment can be astronomical, sometimes surpassing $1 million. All told, the cost of severe burn treatment in the country surpasses $10 billion annually. The reason for the high cost is that most treatment is done at a specialized burn center.
Breaking down the costs
The "average" burn can cost more than $200,000 to treat. If you suffer a severe burn that does not have any complications, your treatment could surpass $1.6 million. Should you suffer complications with your severe burn, treatment could surpass $10 million.
The most common complications that burn victims suffer are scarring and disfigurement, which can add $35,000 in treatment costs. These two complications occur 66 percent of the time when a victim suffers a severe burn injury.
Another complication of a severe burn is psychological harm, which can add $16,000 to $75,000 worth of treatment. Psychological complications occur in 57 percent of severe burn cases, most often in victims who suffered burns in a house fire.
Infections happen in roughly 35 percent of burn cases, leading to $120,000 worth of treatments for organ failure, pneumonia, and sepsis.
It's not uncommon for skin to breakdown or become fragile after suffering a severe burn injury. Treating such a complication can cost anywhere from $38,000 to $107,000.
A large number of severe burn victims are treated using skin grafts. This is a procedure where the skin is taken from an area of the body not impacted by the injury and placed on the area that suffered burns. This process can cost anywhere from $37,000 to $110,000 and is not always successful during the first attempt.
Insurance might not always cover the high costs of burn injuries, which is why it's prudent to seek compensation via a lawsuit against the party responsible for your injuries. Merkel & Cocke, P.A. has handled many products liability and negligence cases involving severe burns, including burns caused by ignition of gasoline fumes by water heaters manufactured by State Industries, Rheem and Ruud, as well as burns caused by negligent handling of electricity or electrical circuits causing loss of arms and or burns over large portions of the body.
Have you or a loved one suffered a severe burn injury in Mississippi? If so, it's in your best interest to speak an experienced personal injury attorney about your situation. Burn injuries can cost you hundreds of thousands of dollars in care. If a defective product or negligent actions of someone else caused your injuries, you should not have to pay for your care. Call the office of Merkel & Cocke, P.A. at 662-627-9641, or complete a contact form to schedule a consultation. We operate offices in Jackson, Clarksdale, and Oxford.

Since 1982, Merkel & Cocke, P.A. has offered thorough, aggressive legal representation on behalf of clients throughout Mississippi. As one of the largest plaintiffs' personal injury law firms in the state, we consider it our duty and our honor to serve the people of our communities, and to uphold their rights in court. Our reputation is such that other law firms turn to us when they need legal counsel, and our business has grown through the years because of the referrals of these attorneys, who trust us with their needs and the needs of their clients. We are the firm you can trust when there are challenges ahead. To schedule a free consultation, please complete our contact form.