Mississippi Workers' Compensation Coverage for Loss of Limbs and Amputations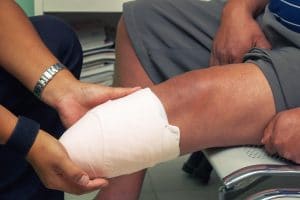 One of the most serious catastrophic injuries a worker can suffer is the loss of an arm, leg, hand, foot, finger, toe, or a combination of any of these body parts. Many workers who suffer a loss of a body part require surgery to limit the damage, reduce the risk of infections, and to maximize the ability of the remaining body to wear a prosthetic device. In addition to pain management therapy and training how to use a prosthesis, most victims also require psychological counseling to help cope with the disfigurement and loss of function.
What types of workplace accidents cause a loss of limb?
Some of the industries most susceptible to work loss due to a loss of limb are manufacturing, construction, and agriculture. Amputation Coalition and the Occupational Safety Health Administration (OSHA) have found that many amputation occurs due to the maintenance and repairs of heavy machinery. Some of the machines that cause amputation injuries, according to OSHA, include:
Meat grinders and food slicers
Drill presses
Printing presses
Milling machinery
Conveyors
Power presses and power press brakes
Roll-forming machines
Forklifts, hand tools, augers, trash-compactors, and other types of equipment are also known to cause a worker to lose a limb.
Medical care required for amputees
The types and degree of medical care depend on which limb/body parts are affected, whether the worker can wear a prosthetic, the patient's overall health, the various health professionals needed to help the worker function, and the amount of support the family of the worker can provide. The various professionals who help workers who lose a limb include:
Orthopedic surgeons and doctors
Doctors trained in prosthetics and orthotics
Physical, vocational, and occupational therapists
Psychiatrists and psychologists
Support groups
Professionals trained to help anyone who has suffered a loss of limb
Medical expenses include:
The cost of any surgeries
In-patient hospital care
The cost to treat with all the doctors, therapists, and counselors for as long as the worker needs help
The costs of the prosthetics which can be tens of thousands of dollars
The cost for transportation services if the worker can't drive
Bills for medications
Other related medical and practical expenses
Workers often need to have their prosthetic devices replaced, especially if the worker is younger. The employee needs to be repeatedly checked for infections, bone loss, vascular diseases, and other necessities.
The ability to wear a leg or arm prosthetic often depends on whether the leg loss is above or below the knee and the arm loss if above or below the elbow. Many amputees experience phantom pain – the sensation of loss in the limb even though that limb is gone.
Wage loss for workers who lose a limb
Workers in Mississippi who cannot work are generally entitled to 2/3 of their average weekly wages during their recovery – during the time the employee is seeking treatment to maximize his/her health.
Once the worker has done everything reasonably possible to get better, an assessment is made as to whether the worker has a permanent disability and the scope of the disability. Generally, the loss of both arms and both legs is considered permanent. Workers in Mississippi with a permanent loss are entitled to 2/3 of their average weekly wages for up to 450 weeks. If an injury is considered partially permanent, then the worker is assigned an impairment rating. The classification of the disability and the length and amount of compensation are set forth in Mississippi Code Annotated Section 71-3-17.
At Merkel & Cocke, P.A., we understand how life-altering the loss of any body part can be. We work with your doctors, independent doctors, and health professionals to analyze the severity of your amputation, what remedies are available, and what your long-term medical needs will be. We also fight to properly classify your amputation so that you are awarded your full wage loss benefits. For help with any amputation, call our Mississippi amputation lawyers at 662-799-1633 or complete our contact form to schedule an appointment. We file workers' compensation claims for employees throughout the Gulf Coast and Tupelo regions including Jackson, Clarksdale, and Oxford. We also represent injured workers in Tennessee and Arkansas.

Since 1982, Merkel & Cocke, P.A. has offered thorough, aggressive legal representation on behalf of clients throughout Mississippi. As one of the largest plaintiffs' personal injury law firms in the state, we consider it our duty and our honor to serve the people of our communities, and to uphold their rights in court. Our reputation is such that other law firms turn to us when they need legal counsel, and our business has grown through the years because of the referrals of these attorneys, who trust us with their needs and the needs of their clients. We are the firm you can trust when there are challenges ahead. To schedule a free consultation, please complete our contact form.