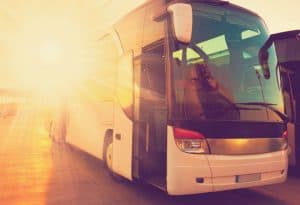 About 6 months ago, we talked about a bus headed towards the Tunica casinos which killed two passengers and injured 44. On March 15, 2019, WAFB 9 reported that another bus, one headed on Interstate 10, crashed near the John C. Stennis Space Center. According to the local sheriff, the bus ran off the highway, struck a sign and then crashed into some trees.
Though no one died in this crash, 26 passengers were injured, 24 of whom were taken to nearby hospitals. The bus was taking the passengers from New Orleans to Harrah's Gulf Coast, a casino in Biloxi.
According to the Federal Motor Carrier Safety Administration (FMCSA), the federal organization that monitors traffic nationwide, the bus was owned by the Golden Gulf bus company. Golden Gulf was previously cited last November for a vehicle maintenance violation. That violation meant the bus had "No or defective bus emergency exits."
Many organizations such as the St. Tammany Parish Fire Dist.1 helped Mississippi officials respond to the accident.
Liability for bus accidents
Mississippi has many tourist attractions, including its casinos. While tourism is a worthy goal, the primary goal should be the safety of all passengers on Mississippi's roads.
In bus crash cases, there are often many plaintiffs and (potentially) multiple defendants. Bus crash cases require experienced trial attorneys who can file claims in state and federal courts. They work with law enforcement, the FMCSA, investigators, and sometimes with traffic reconstruction experts to determine how the accident happened.
Generally, the bus company that hired the driver is liable for any deaths or injuries – even if they weren't negligent. Because buses are "common carriers," they have a hired standard of care, so the companies may be held liable in a crash. The bus company can also be found liable if it failed to follow relevant federal and state laws. For example, bus companies need to monitor the hours their drivers work and need to regularly inspect their buses.
Experienced attorneys will review what other accidents the bus company and driver may have been involved with, whether either the company or driver was ever cited for a violation, and whether any traffic laws were violated.
If the roads were poorly designed, it is possible that the state of Mississippi could be liable, too. Our state has some infrastructure concerns that need to be addressed, yet don't seem to be very high on the government's "to do" list. If we are going to see increased numbers of visitors touring our casinos and newly-renovated tourist spots, the roads need to be able to handle this extra travel.
Two massive bus accidents in six months is a serious problem. For now, all we can do if help injured people seek justice after a collision. To speak with an experienced Mississippi bus accident lawyer, please call Merkel & Cocke, P.A. at 662-627-9641 or complete our contact form to make an appointment. We have offices in Jackson, Clarksdale, and Oxford, and serve clients throughout Mississippi, including in Tupelo and the Gulf Coast Region.