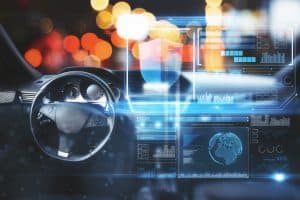 A recent warning by an industry insurance group tells consumers that their cars and trucks with electronic driver assist don't always see stopped vehicles. More? Their vehicles might even steer them right into a crash if they aren't paying full attention to the road.
The Insurance Institute for Highway Safety (IIHS) recently released the results of testing several driver assist programs on several models and brands of vehicles. Specifically, they tested the driver assist programs on BMW, Mercedes, Tesla, and Volvo models. Their findings? Electronic driver assist systems can indeed help prevent accidents and save your life, but they can also fail under some circumstances, and even cause car accidents.
In a statement to the Chicago Tribune, IIHS's chief research officer David Zuby said this about the tests: "We have found situations where the vehicles under semi-automated control may do things that can put you and your passengers at risk, and so you really need to be on top of it to prevent that from happening."
How did the cars perform?
One of the most glaring results in the IIHS report centered around the systems in the Tesla Models S and 3. The researchers at IIHS tested the cars' driver assist programs with adaptive cruise control turned off and the automatic braking system turned on.
Here's what happened on the track test:
Traveling at 31 miles per hour, both Tesla models were able to brake to avoid a crash – but still hit a stationary balloon. The Teslas were the only two models in the IIHS test that failed to stop in time during the track tests. When researchers turned the adaptive cruise control back on, however, both Tesla models braked both earlier and more softly and were able to avoid hitting the stationary balloon altogether.
Another disturbing result came from the road test:
With the exception of the Tesla Model 3, none of the cars tested responded to stopped vehicles on the road in front of them. And, all of the vehicles' driver assist programs (Tesla, BMW 5-Series, Mercedes E-Class, and Volvo S-90) were rated "Superior" in previous IIHS performance tests.
Additionally, several of the vehicles' lane-centering systems worked improperly or failed outright on curves and hills. The BMW, Tesla Model S, and Volvo all veered toward the center lane and went over it, necessitating driver intervention.
The IIHS also mentioned the fatal crash involving a Tesla Model X SUV in California earlier this year. This tragedy points to the fact that electronic safety systems still have their limits, as well as an indication that many drivers don't use them properly. IIHS also noted a recent pedestrian death in Arizona involving a pedestrian vehicle, illustrating some of the risks of testing some of these newer technologies on public roads.
It's important to note that electronic driver assist systems certainly do increase safety, but the IIHS data shows that these systems are fallible, and drivers must read their manuals thoroughly. Tesla does call its system "Autopilot" and Volvo calls it "Pilot Assist," but owners and drivers of these cars should understand those features don't make them self-driving vehicles. As David Zuby warns, "They will help you with some steering or speed control but you really better be paying attention because they don't always get it right."
As of this writing, messages left by the media for the automakers had not been answered.
If you suffered injuries in a car accident that wasn't your fault, the lawyers at Merkel & Cocke are here for you. We'll advocate for you, help you seek compensation for your injuries, and ensure the responsible parties are brought to justice. Our attorneys have offices in Jackson, Oxford and Clarksdale. Please call us today at 662-799-1633 or complete our contact form to schedule a free consultation.