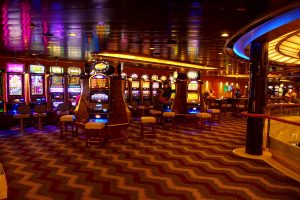 When most people think about visiting the casino, they think about playing the slots, making a few bets, and enjoying some card games, such as poker and blackjack. Most people would not even think about the possibility of suffering from a serious injury while visiting a casino, but different injuries have been sustained at various casinos across the United States. You could sustain injuries just about anywhere inside the building, whether you are using the bathroom, playing the slots, or even grabbing something to eat in one of the dining sections of the casino.
Slips, trips and falls
The most common cause of injuries in any casino is a slip and fall accident. If a worker is mopping the floor in the bathroom and forgets to place a caution sign by the front door, a casino guest could walk into the bathroom and immediately slip on the floor. Patrons can trip over broken flooring, slip on spilled drinks, or fall off broken stools near the game or slots. They can also sustain injuries on the stairs and escalators.
A simple slip or trip could turn into a big problem when it leads to broken bones, slipped discs, brain trauma, and/or chronic pain.
Physical assault
Although many people go to the casino to have a good time, some people go with bad intentions. If there is a lack of safety and security on the property, a guest could become the victim of a physical assault by another person who was tempted by his or her winnings. When you mix liquor and gambling together, you never know what could happen – and you never know when a person might decide to get physical with someone else.
Parking lot accidents
Most casinos have large lots and parking structures. They also have a clientele who may have been up all night, had too much to drink, or are distracted by their winnings or losses. That makes the parking lots one of the most dangerous parts of the casino, because people aren't always on their best behavior when they're driving through them. If you are hit by car, a tour bus, or a "party" bus or limo, the casino may share partial liability for any injuries you sustain. The same is true if you are injured because of broken pavement or handrails, or because the lights are broken or off.
If you sustained injuries in a Mississippi casino, Merkel & Cocke, P.A. can help. We handle complex injury claims for residents of and visitors to the Magnolia State. Please call 662-627-9641 or complete the contact form on our website to schedule an appointment. We represent clients in Oxford, Clarksdale, Jackson, and throughout the Gulf Coast.