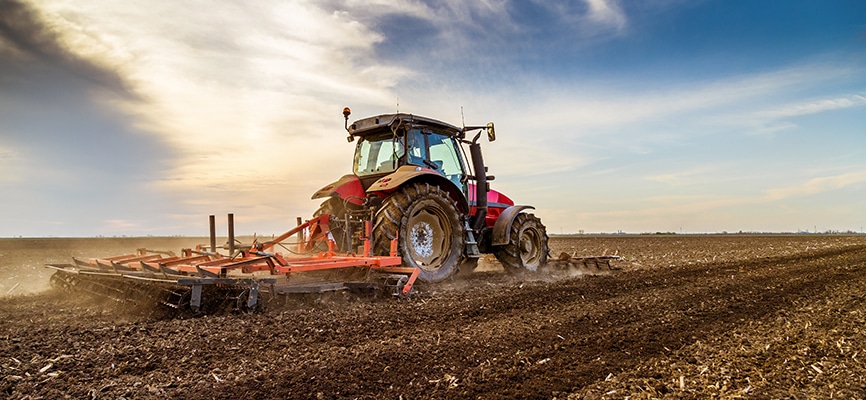 Oxford Farm Accident Attorneys Representing the Injured
Serving injured agricultural workers throughout Mississippi
Those who have never worked on a farm might not understand what a dangerous work environment a farm can be. If you are thinking farm work is about blue skies, green grass and feeding chickens and milking cows, you might consider the dangers from using huge machines that can malfunction and cause injury, exposure to heat stress and overuse injuries, and the dangers of working with large animals and toxic chemicals. The Bureau of Labor Statistics (BLS) reported that the Farming, fishing and forestry industry had 290 fatal occupational injuries, which was about 24.9 deaths per 100,000 full-time workers, had the highest fatal work injury rate.
The injury attorneys at Merkel & Cocke, P.A., are prepared to fight for the rights of farm workers injured in workplace accidents, or with occupational diseases in Oxford, MS. We are strong advocates for our clients' rights. We know what it takes to pursue a farm accident workplace injury case to settlement or in a trial. Our consultation is free, and you do not pay attorney fees until we recover compensation for you.
Workplace hazards for farm and agricultural workers
Farm workers are exposed to countless workplace hazards everyday including the following:
Vehicle hazards, such as tractor accidents, typically cause the highest number of farm accident injuries.
Heat and heat-related illnesses cause thousands of workers to become sick and some will die from heat exposure.
Falls are a major hazard in every workplace, but especially prevalent in the agricultural industry
Musculoskeletal injuries from repetitive motions, prolonged exertions, frequent heavy lifting, pushing, pulling or carrying heavy objects may be made more serious because of heat, cold or vibration.
Hazardous equipment and machinery, as even the simplest tools can cause injury if they malfunction or are not used properly.
Grain bins and silos pose a hazard for suffocation and engulfment hazards if a worker becomes buried or engulfed by grain if they try to walk on moving grain.
Unsanitary conditions and the lack of clean drinking water, bathroom facilities or handwashing facilities can lead to infectious, communicable disease from microbial and parasitic exposure.
Pesticides and other chemicals create both short and long-term hazards for farm workers and their families as workers may be exposed to pesticides and other chemicals at work, and then they bring their clothing home where family members are exposed to the same chemicals.
Respiratory distress from respiratory hazards that can be found all over the farm or agricultural operation such as organic dust, microorganisms and endotoxins.
Animal-acquired infection transferred from vertebrate animals to humans in the form of bacteria, protozoa, fungi, parasites or prions.
Exposure to high levels of noise from tractors, chain saws, grain dryers, squealing pigs and loud machines, which can lead to permanent hearing loss.
Farm and agricultural workers are also exposed to many environmental hazards such as vector-borne disease, venomous wildlife, insects, poisonous plants, extreme cold, lightning, ultraviolet radiation and confined spaces. (Occupational Safety and Health Administration)
What are the most common type of farm accident injuries?
Tractor accidents are some of the most common types of farm accidents. The U.S. Centers for Disease Control and Prevention (CDC) reports that in 2016, 417 farmers and farm workers died from a work-related injury resulting in a fatality rate of 21.4 deaths per 100,000 workers. Every day about 100 agricultural workers suffer a lost-work-time injury. Transportation incidents, which include tractor overturns, were the leading cause of death for farmers and farm workers.
The National Agriculture Safety Database (NASD) reports that tractor accidents have been identified as the leading cause of death and disabling injuries on farms causing one third to one-half of fatal farm injuries. Tractor overturns account for about half and runover accidents account for about one-fourth of farm tractor accidents. The National Safety Council reports that farm tractor accidents are one of the leading causes of injury and death in the farming and agricultural industry, and the National Agricultural Tractor Safety Initiative estimates that about 130 farm worker deaths each year are a result of tractor accidents.
Tractors are not the best designed vehicles from a safety perspective. They often have safety defects, and many older models are prone to rollover accidents. Newly manufactured tractors are now required to be equipped with a rollover protective structure (ROPS). The National Institute for Occupational Safety and Health (NIOSH) has developed CROPS as an alternative to commercial rollover protection systems for older tractors. They furnish the design and specifications for Ford and Massey Ferguson tractors that farmers and agricultural operations can use to retrofit older tractors.
Some of the most common farm tractor accidents involve:
Tractor rollovers
Tractor overturn accidents
Tractors crushing and running over tractor drivers
Crashing into other farm vehicles
Becoming entangled in moving parts
Driving in uneven terrain in hazardous weather conditions
How can an Oxford farm accident injury attorney help my case?
After you have sustained a farm accident injury that is causing you to lose time from work, if you are unable to file a workers' compensation claim because your employer does not have insurance, you may have questions about your next steps. Our Oxford workplace injury attorneys know how to help you recover the compensation you need to take care of yourself and your family while you recuperate and cover your mounting medical expenses. We investigate the incident and determine who is liable for your injuries. If your injury was a result of using defective equipment, we can hold the manufacturer liable for your injuries and other losses. If you have been hurt in a workplace farming accident, we are here to protect your rights.
The Oxford, MS injury legal team you turn to for trusted guidance after a farm accident
If you have sustained a farm-related injury requires specific knowledge and skill. At Merkel & Cocke, our legal team has helped numerous individuals injured in farm accidents recover compensation. From our office in Oxford, we serve injured parties throughout Mississippi, Tennessee and Arkansas. You can put our decades of experience to work in your case. Call us at 662-627-9641 or complete our contact form. Your first consultation is free.
Types of Cases We Handle
Our Oxford attorneys handle a variety of cases, including:
---
Oxford Office
2090 Old Taylor Road
Suite 207
Oxford, MS 38655
Phone: 662-236-0080