"Barista Wrist" Injuries are a Leading Cause of Workers' Compensation Claims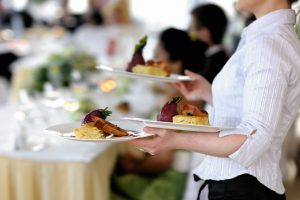 Working in a restaurant or café can cause many different types of injuries. These injures can mean missed time from work. A few examples include back and spine injuries and burns from spills. Some customers may become violent. It's easy to slip and fall over food, chairs, and other items.
The most common type of restaurant injury, according to the Insurance Journal, is an injury to the wrist. Restaurant workers who carry food many times a day multiplied by numerous weeks and months can develop repetitive stress injuries. Repetitive injuries in the restaurant and food service industry which affect the wrist are also known as "Barista Wrist" injuries. A Barista Wrist injury can keep someone from working for a very long time.
AmTrust is an insurance company that provides many different types of insurance including workers' compensation. A restaurant risk report, prepared by AmTrust, examined more than 84,000 workers' compensation claims by AmTrust's clients between 2013 and 2017. The report showed that "working at a coffee shop yields the highest lost time – 45% – compared to all other restaurant types," and that hand and wrist injuries account for 265 lost days of work, on average.
Other findings include:
Mississippi was among the top five states with the most time lost due to restaurant injuries.
One-third of all work injury claims were due to punctures, scrapes, and cuts.
Slips and falls caused nearly $200 million in paid claims – four and half times as much as those for the punctures, scrapes, and cuts.
Workers' compensation claims for restaurant-related injuries increased during the summer months – the peak season for many restaurants.

Work injury claims for restaurant injuries during June, July, and August were four to five percent higher than for the other months in the year.
July claims were 13% higher than the claims for an average month.
The type of care needed for repetitive stress injuries
Repetitive stress injuries can affect the tendons, ligaments, muscles, soft tissues, and nerves. Symptoms include pain, numbness, tingling, and swelling. Accident victims with a Barista Wrist or repetitive stress often lose strength and flexibility in the affected area. Other types of repetitive stress injuries include carpal tunnel syndrome, bursitis, tendinitis, tennis elbow, ganglion cysts, and other disorders.
Merkel & Cocke, P.A. has built its strong reputation for helping injured workers due to our numerous verdicts and just settlements. Our Mississippi workers' compensation lawyers have been fighting for employees since 1982. To file a claim for your medical bills, lost wages, and other workers' compensation benefits, call us today. You can reach us at 662-627-9641 or complete our contact form to make an appointment. We have offices in Jackson, Clarksdale, and Oxford.

Since 1982, Merkel & Cocke, P.A. has offered thorough, aggressive legal representation on behalf of clients throughout Mississippi. As one of the largest plaintiffs' personal injury law firms in the state, we consider it our duty and our honor to serve the people of our communities, and to uphold their rights in court. Our reputation is such that other law firms turn to us when they need legal counsel, and our business has grown through the years because of the referrals of these attorneys, who trust us with their needs and the needs of their clients. We are the firm you can trust when there are challenges ahead. To schedule a free consultation, please complete our contact form.