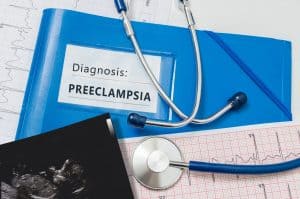 Recently, superstar performer Beyoncé gave an interview to Vogue magazine where she spoke about her experience with preeclampsia while pregnant with her twins Rumi and Sir, and subsequent emergency C-section.
Preeclampsia (previously known as "toxemia") is a complication of pregnancy that can cause high blood pressure, kidney damage, and other serious health problems. This condition can be life-threatening to both the mother and baby, and typically develops during the last trimester, but can develop earlier. Although there's currently no cure for preeclampsia, the condition resolves after delivery of the baby. Often, however, this results in premature birth and potential birth injuries.
More about preeclampsia
Tia Jackson-Bey, M.D., an OB-GYN, discusses preeclampsia in a piece on Buzzfeed. She points out that two to eight percent of all pregnancies worldwide are affected by preeclampsia. Black women are disproportionately affected by this and other hypertension-related conditions, and their maternal mortality rate is 3.5 times higher than white mothers.
This is why it's so important that Beyoncé shared her story – bringing greater awareness to pregnancy complications like preeclampsia can help save lives, says Dr. Jackson-Bey. "The prevalence of preeclampsia has risen over the past 20 years, but U.S. hospital systems are still struggling to meet the national guidelines for the treatment and management of preeclampsia and other causes of significant maternal mortality and morbidity," she writes.
If you have any of the following symptoms during your pregnancy, you should call your doctor immediately, as you may have preeclampsia:
Headache that won't go away
Visual disturbances like flashing lights or blurriness
Nausea or vomiting
Pain in the right shoulder or right abdomen
Swelling in the hands, legs, or face
Rapid weight gain
Trouble breathing
Also, ensure your doctor is aware of any other risk factors you may have for preeclampsia:
Obesity
Pregnant with multiples
Family history of preeclampsia
Older than 35
First pregnancy or more than 10 years since your last one
Used IVF to become pregnant
Protecting the lives of new mothers
Thousands of women are injured and hundreds of women die every year as a result of childbirth complications. USA TODAY recently published a shocking article naming the United States as the most dangerous place in the developed world to give birth. Worse? The majority of these injuries and deaths are preventable, including deaths from hypertension and preeclampsia. When you suffer pregnancy complications that could have been prevented, you may have a medical malpractice case.
USA TODAY sifted through hundreds of pages of data to find that many hospitals across the country fail to promptly treat new mothers for high blood pressure that may lead to strokes. Some patients have even nearly bled to death due to improperly monitored blood loss. These injuries and loss of lives could be attributed to the lack of uniform safety guidelines.
Dr. Steven Clark, childbirth safety expert and a professor at Baylor College of Medicine, says, "Our medicine is run by cowboys today, where everyone is riding the range doing whatever they're wanting to do. … It's a failure at all levels, at national organization levels and at the local hospital leadership levels as well."
Medical malpractice or pregnancy complications can cause serious injuries or death. When these injuries are preventable, recovery can be even more difficult. The Mississippi malpractice lawyers at Merkel & Cocke are here to help you heal and hold the guilty parties responsible. Our lawyers have offices in Jackson, Oxford and Clarksdale. You are welcome to call us today at 662-799-1633 or complete our contact form to schedule a free consultation.