Britax Jogging Stroller Poses a Safety Risk to Children and Adults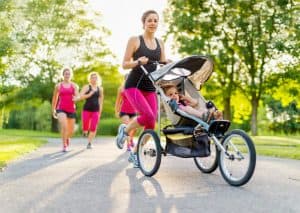 Britax, manufacturer of popular – and pricey – children's products, is facing a problem. The three-wheeled BOB jogging stroller poses a danger to the children who are in the strollers and the parents who push them. The danger is the that front wheel of the stroller tends to fall off. Already, there have been reports of hundreds of crashes that have caused broken bones, torn ligaments, and smashed teeth.
Britax has acknowledged problems with the wheel including posting an online video about using the front wheel. The company also sells the strollers with a hand tag that instructs mothers and fathers on the proper use of the wheel.
Britax also claims that it has made an adjustment to the quick release on the BOB stroller. But that fix doesn't apply to the half-million BOBs sold with the original wheel design. The original BOB strollers continue to cause problems.
And yet, Britax isn't recalling these dangerous strollers. There have been plenty attempts to do so, but Britax has largely refused. Despite all of the company's public proclamations that it fixed the problem, we do not know for sure if that is true – and that could mean you, and your child, are at risk.
What do I do if my child is hurt while in a BOB stroller?
Companies fail to do the right thing more often than we would like. Luckily, there is another option for injury victims. While recalls are one way to address a product defect, another way is through a product liability lawsuit. Injury victims and the parents of injured children have the right to hold makers and sellers of defective products accountable:
If the product is defective when used
If someone suffers physical injuries
If the defect is the cause of those injuries
In product liability claims against stroller manufacturers, electronic manufacturers, drug manufacturers and car manufacturers – any manufacturers – there is no need to prove fault. Safety engineers and product experts usually can verify that a product was indeed defective, or that a company failed to properly warn its customers that something could go wrong.
For help with injuries due to the use of any product, the experienced Mississippi product liability lawyers at Merkel & Cocke, P.A. are ready to help. We've helped thousands of personal injury victims get just settlements and verdicts. To schedule an appointment, please call us at 662-627-9641 or fill out our contact form. We represent children, adults, and seniors from our offices in Jackson, Clarksdale, and Oxford.

Since 1982, Merkel & Cocke, P.A. has offered thorough, aggressive legal representation on behalf of clients throughout Mississippi. As one of the largest plaintiffs' personal injury law firms in the state, we consider it our duty and our honor to serve the people of our communities, and to uphold their rights in court. Our reputation is such that other law firms turn to us when they need legal counsel, and our business has grown through the years because of the referrals of these attorneys, who trust us with their needs and the needs of their clients. We are the firm you can trust when there are challenges ahead. To schedule a free consultation, please complete our contact form.