Catastrophic Brain Injury – In Their Own Words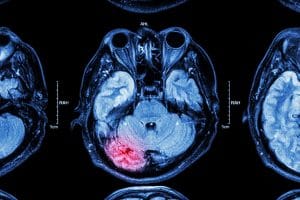 Victims of a car accident, fall, act of violence, or sports injury who suffer a traumatic brain injury (TBI) need all types of physical help. They need to be treated by neurosurgeons, pain management doctors, physical therapists, occupational therapists, speech therapists, and many other health providers. For emotional and behavioral help, they may need to work with a psychologist or a psychiatrist.
For many TBI accident victims and their families, hearing from other patients and learning how they're coping with a TBI can also be a comfort. The website Brainline.org, a resource for people living with brain injury, provides a place for those with TBI to share their stories. Some blogs that Brainline recommends include the following:
Kara Swanson: Rocking Her Life After Brain Injury
Kara Swanson, who suffered a brain injury in 1996, started her blog after writing a book about her brain injury titled "I'll Carry the Fork." Kara suffered her brain injury when a driver ran a red light. She still has cognitive fatigue and headaches, but has developed numerous coping strategies along her journey.
She began the blog as a way of helping those who suffered after she did. The aim is to provide TBI survivors hope. The focus of her blog is for long-term survivors more than those who suffered a recent injury. She says, "While it covers topics that are painful, challenging, and frustrating, it has a bottom line and a consistent message that reflects my very firm belief that we are capable of absolutely rocking our lives after brain injury."
Shireen Jeejeebhoy: Deconstructing Misconceptions about Brain Injury
Shireen's blog discusses her injuries from a car crash she suffered in 2000. Unlike many other TBI bloggers, Shireen's focus is on mild injury victims who have various body function problems. Jeejeebhoy didn't realize she had a brain injury until a month after the accident.
Her blogs seeks to counter misconceptions such as:
Only athletes get concussions.
Most healing takes place in the first two years. She, herself, saw improvements five to seven years after the car crash.
She began her first blog, anonymously, while going through a lawsuit. She started a second blog as a way to promote a book she wrote. The blog also helps to express her feelings, knowledge, and to record what she's learned.
Mark Kerrigan: Grateful After Brain Injury
Mark's blog includes stories, advice, resource, and videos. His TBI occurred while riding on a wet road and was in a coma for four weeks. After coming out of the coma, he had to re-learn how to talk and walk. Mark still has a limp as well as self-described "less control over his emotions." He started his blog in 2009 to help others and as therapy to reflect on how far he's come.
Mark says, "It may seem like your world's coming to an end, that it's upside down, but you can get through it if you have the faith."
Zach Gauvin: Looking Forward After Brain Injury
At the age of 17, Zach Gauvin was in a coma for a month after a car crash. His doctors thought he would be a vegetable if he survived. At 22, he graduated from the University of Massachusetts with a degree in journalism. He's also written a book called "Brain injury Support Group" – and is clearly not a vegetable. He began his blog to help support his first book – Miracle Kid.
His blog now has followers worldwide. Zach says that the value of having a blog is the audience that it can reach. "It gives you more access to people," he says. "The more people I can help, the better."
At Merkel & Cocke, P.A. we understand how life-altering traumatic brain injuries are. Our lawyers work with many different types of Mississippi brain injury health professionals to help you recover to your maximum potential. We help direct you to professionals and support groups who can focus on your physical and emotional needs. Talk to us today about how we can help you seek compensation for your losses.
For help now, call us at 662-799-1633 or use  our contact form to make an appointment. Our offices are located in Jackson, Clarksdale, and Oxford. We represent clients throughout Mississippi.

Since 1982, Merkel & Cocke, P.A. has offered thorough, aggressive legal representation on behalf of clients throughout Mississippi. As one of the largest plaintiffs' personal injury law firms in the state, we consider it our duty and our honor to serve the people of our communities, and to uphold their rights in court. Our reputation is such that other law firms turn to us when they need legal counsel, and our business has grown through the years because of the referrals of these attorneys, who trust us with their needs and the needs of their clients. We are the firm you can trust when there are challenges ahead. To schedule a free consultation, please complete our contact form.