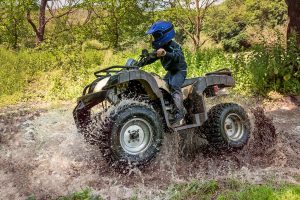 Taking out the all-terrain vehicles (ATVs) is a popular recreational activity for families here in Mississippi and around the country. Unfortunately, however, this popularity also comes with an increase in injuries and fatal accidents, especially involving children. There's no doubt that riding ATVs can be a fun day out, but many factors can come together to cause tragedy, and it may be difficult to determine who or what was at fault.
According to the American Academy of Pediatrics (AAP), 53 children were killed in ATV accidents in 2016, with another 26,800 suffering injuries serious enough to require emergency room treatment. "Too many families, thousands of families every year, are tragically impacted by ATV deaths and serious injuries. ATVs are one of the most dangerous products [the Consumer Product Safety Commission] CPSC regulates, causing more deaths and injuries than almost any other product under CPSC's jurisdiction," said Rachel Weintraub, Legislative Director and General Counsel for the Consumer Federation of America (CFA).
Off-road vehicles in Mississippi
Did you know Mississippians are three and a half times more likely to die in an ATV accident than other Americans? This number appears to be rising for children under the age of 16 years old. Off-road vehicles present unique dangers, as they're typically used in unusual and unpredictable conditions, putting them at risk for rollover accidents or collisions with other objects or vehicles.
ATVs can weigh up to 600 pounds, with a high center of gravity and no cage, roll bars, or seatbelts. These vehicles can also go up to 65mph or more. You can see why, in the event of an accident, injuries can be catastrophic or deadly. Drivers or passengers can be easily thrown from the vehicle – or even underneath it – in a collision or rollover. Common injuries from off-road vehicles include:
Traumatic brain injury
Broken bones
Spinal cord injury
Wrongful death
Common causes of ATV accidents
A variety of factors can contribute to both ATV driver and passenger injuries. These can include:
Weather. Riding in inclement weather can cause reduced visibility as well as unexpected hazards.
Terrain. Things like mud or loose gravel may appear safe at first, especially to children or inexperienced operators. When drivers hit unexpected terrain, they may be traveling too fast or overcorrect and cause an accident.
Carrying a passenger. The majority of ATVs are designed for a single rider, and adding a passenger can drastically and dangerously change the way the vehicle handles.
Defective vehicles and parts. Due to defective parts or manufacturing, an ATV could unexpectedly malfunction or break down, causing an accident or making a crash much worse.
Inexperienced drivers. Children especially don't have the skill, strength or judgment to properly operate an off-road vehicle. If you do allow a child to drive an ATV, it's essential you properly supervise them in a safe environment.
The AAP doesn't mince words when it comes to ATVs and kids. They recommend that anyone under the age of 16 – anyone too young for a driver's license – should not operate or ride an off-road vehicle.
If your child was injured in an ATV accident, the Mississippi personal injury attorneys at Merkel & Cocke, P.A. can help. We work to find out who or what was responsible for their accident and protect your right to compensation for their injuries. Our attorneys have offices in Jackson, Oxford Clarksdale. Call us today at 662-627-9641 or complete our contact form to schedule a free consultation.