Complaints Regarding Quality of Ventilators and Masks from China Lead to Halt in Export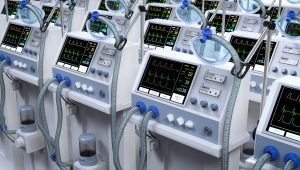 Recent complaints from leaders across the globe regarding the quality, or lack thereof, of medical equipment being made and exported by China, has led to the country halting its exports. The announcement was made earlier in April by the General Administration of Customs.
With the halt on exporting medical supplies, Chinese officials are examining all of the ventilators, N95 respirators, and various other defective medical supplies before sending them out of the country to any other country in the world. The delay could last between days and weeks for some countries, depending on how well the inspections go for China.
Complaints lodged against China
The issue exploded internationally when Spain complained about an order of testing kits it ordered from China. Spain said the testing kits it received had only a 30 percent rate of accuracy when the country was expecting kits with an 80 percent rate of accuracy. The complaints have led to the discovery of the following in China:
Pharmacies have been selling knockoffs of an alternate version of Clorox
A man was making fake N95 Honeywell respirators at an unregistered factory
Authorities confiscated more than 7 million masks that were said to be counterfeit, substandard, or mislabeled in one Chinese province
China leads the entire world in the production of medical supplies. The country's global lead in medical supply production has increased immensely since it began a national mobilization in January. At the beginning of February, China was producing 10 million masks per day. Four weeks later, China's daily production numbers of masks jumped to 116 million.
The new export inspection rules
In addition to the checks that exporters must already make, the quality of all medical supplies will now be inspected by exporters before moving forward. The checks that were being made included the following:
If the medical supplies were being counted correctly
If the supplies being exported infringed on any patents in foreign countries
If the documents being sent with the supplies were fraudulent
The new rules require a customs inspector to perform an additional check on every shipment. If a customs inspector cannot perform this check, some other government inspector can fill in and conduct the inspection.
The 11 categories that the new rules cover for exports from China include the following:
medical respirators and surgical masks
medical protective clothing
infrared thermometers
Ventilators
surgical caps
medical goggles
medical gloves
medical shoe covers
patient monitors
medical disinfection towels
medical disinfectants
There has been no timetable placed on the inspection of medical supplies being exported from China.
The impact of COVID-19 has been immense in every country. Economies have struggled, hundreds of thousands of people have been infected, and medical supplies are in short supply. If you have questions about COVID-19 or how it might impact your life, call the office of Merkel & Cocke, P.A. at 662-627-9641 or complete a contact form online to schedule a consultation. We operate offices in Jackson, Clarksdale, and Oxford to better serve our clients.

Since 1982, Merkel & Cocke, P.A. has offered thorough, aggressive legal representation on behalf of clients throughout Mississippi. As one of the largest plaintiffs' personal injury law firms in the state, we consider it our duty and our honor to serve the people of our communities, and to uphold their rights in court. Our reputation is such that other law firms turn to us when they need legal counsel, and our business has grown through the years because of the referrals of these attorneys, who trust us with their needs and the needs of their clients. We are the firm you can trust when there are challenges ahead. To schedule a free consultation, please complete our contact form.