"Dicamba Drift" and Monsanto's Legacy as the Company Store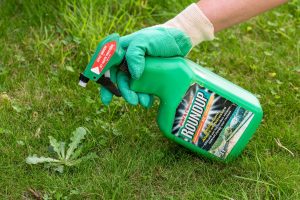 In Merle Travis' lament "16 Tons," an unnamed coal miner asks St. Peter to spare him another day, because he "owes his soul to the company store." Company stores may have faded away, but that hasn't stopped mega-businesses and corporations from finding creative ways to keep their employees and customers beholden to them. And no corporation deserves the moniker more than Monsanto.
Monsanto's many controversies are well-known, but the latest involves dicamba: a powerful compound designed to destroy plants from the inside out. It's also one of the few herbicides that can kill pigweed, a voracious and invasive plant that can choke fields of cotton and soybeans, and destroy farm equipment. Pigweed is resistant to glyphosate (the herbicide in Roundup) but not to dicamba, so Monsanto created the Roundup Ready® Xtend seeds, which are resistant to both herbicides. It has also been working on its own formula for dicamba-based herbicides; thus, the cycle continues.
The problem is that Monsanto sold the new seeds before its updated, low-volatility version of dicamba was ready, and so farmers and agri-businesses have been spraying older, more potent versions of dicamba on their fields.
The dicamba "drift" is a well-documented problem
Unlike other herbicides, dicamba doesn't stay put. That's what "dicamba drift" is: Farmer A sprays his cotton fields with a dicamba-based herbicide, and the herbicide travels into the fields of Farmer B, destroying some or all of his crops.
How do you know if the damage is from dicamba?
Dicamba works by imitating a hormone in plants. Essentially, it starves the plants. As a result, the damage is causes to plants is pretty distinctive – the existing leaves often twist and curl in, making a cup-like shape, and the new leaves are deformed when they grow. If dicamba gets into a flower garden, it can cause annuals to grow their roots aboveground.
Furthermore, dicamba won't only affect a small portion of your fields or gardens. You are likely to see this damage throughout a crop.
How long does the damage take to occur?
Dicamba damage usually appears within a few days, but it may take as long as a few weeks.
Proving your losses were caused by dicamba
If you believe your crops were damaged by dicamba, you should take immediate action as the "evidence" disappears quickly. There are a few steps you can take before you file a lawsuit. The National Agricultural Law Center at the University of Arkansas recommends the following:
Document your losses. Take pictures of your losses over the course of several weeks, noting the extent of the damage, and how quickly it happens. Keep a log of every time your neighbors spray their fields. Contact an agency like the Mississippi State Chemical Laboratory (MSCL) and see if they can test your soil for dicamba.
Talk with your neighbors. See if they're experiencing drift-related losses, or if they are using dicamba.
Contact the Plant Board. The Bureau of Plant History is a regulatory and service division of the Mississippi Department of Agriculture and Commerce. You should contact the Plant Board to discuss the filing of a complaint that should trigger an investigation.
Call your accountant. Talk with him or her about the potential losses you could sustain from a lesser crop yield, and the ramifications these losses could have on your taxes, loans, and open lines of credit.
Understand that dicamba dispels quickly, and you should contact us immediately to discuss your options.
Filing a lawsuit for crop losses resulting from dicamba drift
If your crop yield was affected by dicamba drift, your federal crop insurance through USDA Risk Management Agency won't cover your losses. To recoup those losses, you may need to file a lawsuit against the landowner, the applicator, the manufacturer of the herbicide applicator, Monsanto, or some combination of all four. One thing to remember, though, is that older dicamba compounds have been banned, which means that your neighbor's liability insurance may try to avoid paying out for your losses. It's one of the many reasons you want to hire an attorney to represent you in negotiations.
Dicamba drift is putting a lot of farmers at risk. At Merkel & Cocke, P.A. we do whatever we can to ensure that justice is served for our clients in Mississippi, Tennessee, and Arkansas. To schedule a consultation at one of our offices in Jackson, Clarksdale, or Oxford, please call 662-799-1633 or complete our contact form.

Since 1982, Merkel & Cocke, P.A. has offered thorough, aggressive legal representation on behalf of clients throughout Mississippi. As one of the largest plaintiffs' personal injury law firms in the state, we consider it our duty and our honor to serve the people of our communities, and to uphold their rights in court. Our reputation is such that other law firms turn to us when they need legal counsel, and our business has grown through the years because of the referrals of these attorneys, who trust us with their needs and the needs of their clients. We are the firm you can trust when there are challenges ahead. To schedule a free consultation, please complete our contact form.