Does My Business Interruption Insurance Cover COVID-19 Losses?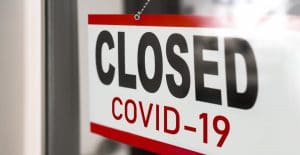 The current coronavirus pandemic is having a devastating effect on businesses that rely on the general public for its revenue. Even businesses and small companies at the top of their game have been feeling the pinch – closed down completely with no re-opening date in sight. Just about every business owner has insurance policies in place to protect themselves in case of disaster – it's called business interruption insurance and it's meant to cover losses and damages when your company is shut down.
However, business owners across the country are finding out their business interruption coverage doesn't necessarily cover coronavirus-related losses. Celebrity chef Thomas Keller recently had to shut down his famed French Laundry restaurant and filed a business interruption claim, only to find it denied. He's since filed a lawsuit and wrote about his experience for NBC News.
In Keller's words, "We all paid faithfully, with the expectations that we would have someone on our side. We thought we were in good hands. But now, when restaurateurs are contacting our insurers, we're being told that the civil authority shutdown orders are not covered. Why? They tell us that all policies exclude pandemics. We've read our policies; that is simply not true. At no time were we ever told that civil authority shutdowns from a global pandemic were excluded. The word pandemic does not appear in any of our policies."
What does this mean for you?
If your business is not considered "essential" – and even if it is – you are likely experiencing financial loss and cutbacks right now. Many people are being forced to shutter their companies for the immediate future, which means losing revenue every single day. And, you and your employees are losing income and job security.
You pay the premiums on your business interruption insurance with the good faith that the insurance company will pay out your claim when you need it. This can mean anything from a tree falling onto your office roof, making it uninhabitable, to a tornado knocking out the power and making it impossible for your machinery to operate.
However, the current COVID-19 pandemic is unprecedented with current state and federal shutdowns. And, some business owners are unaware that after the SARS epidemic in 2003, many insurers added exclusions for communicable diseases to their business interruption policies. And this is where things are becoming muddled, and policyholders are bearing the brunt of the loss.
Many insurers are claiming that policies don't kick in until there is a physical loss or damage to your business. Our attorneys can argue that your business was closed due to contamination and had to be sanitized, or that your closure was due to government restriction, giving you no physical access to your premises.
We recommend reviewing your business interruption insurance policy right away. This is still an emerging issue, with no current local or federal guidelines regarding COVID-19 and insurance litigation.
To speak with an attorney at Merkel & Cocke, P.A., call us at 662-627-9641 or complete our contact form to make an appointment. We represent patients in Tupelo and the Gulf Coast Region – including Jackson, Clarksdale, and Oxford.

Since 1982, Merkel & Cocke, P.A. has offered thorough, aggressive legal representation on behalf of clients throughout Mississippi. As one of the largest plaintiffs' personal injury law firms in the state, we consider it our duty and our honor to serve the people of our communities, and to uphold their rights in court. Our reputation is such that other law firms turn to us when they need legal counsel, and our business has grown through the years because of the referrals of these attorneys, who trust us with their needs and the needs of their clients. We are the firm you can trust when there are challenges ahead. To schedule a free consultation, please complete our contact form.