Is There a Connection between Vaping and COVID-19 Complications?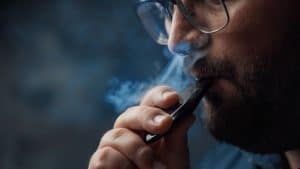 Even though parts of the world are seeing a decline in new cases of COVID-19, it doesn't mean that scientists and other researchers aren't looking at every angle of the virus possible in order to save lives. One of those angles includes the impact vaping would have on how patients suffer from COVID-19.
Right now, we definitely know that the elderly and anyone who is immunocompromised are at higher risk of suffering from COVID-19. However, researchers have begun to take a deeper look at the effects of vaping and COVID-19, and complications that could arise.
Doctors have discussed a possible link
Even though there hasn't been enough time to initiate studies of people who vape and have experienced symptoms of COVID-19, doctors have stilled discussed a possible link. "We are awaiting studies in COVID-19 patients to determine definitively whether smoking, vaping, and/or other substance uses are risk factors for complications from COVID-19 infection," Yale Medicine pulmonologist Dr. Stephen Baldassarri said.
Despite not having enough data from studies, the medical community already knows the damage that can be done to the lungs from smoking or vaping. The medical community has also already reported on the damage done to the lungs from the Coronavirus and how it can impact those with asthma, COPD, and other respiratory illnesses.
The dangers of vaping
The dangers of vaping were already known and widely discussed well before the pandemic began in China and migrated to the United States. The headlines surrounding vaping prior to the pandemic were eyeopening. More than 2,500 people had been hospitalized for severe lung illnesses and 64 people had died.
Despite these numbers, scientists and doctors were unsure of the cause of the illnesses. They weren't sure if it was vaping itself or the high levels of Vitamin E acetate in products sold on the black market.
Centers for Disease Control and Prevention vaccine provider Dr. Michael Hall said the following about vaping:
A variety of things can enter deeper into the lungs and cause irritation, which will then cause problems with the protective nature of the lungs. A person with compromised lung lining would suffer a worse case of COVID-19 because if you've got impaired defense mechanisms in your lung tissue, the infection could spread more rapidly and the body can't keep up.
A weakened immune system due to vaping
A link has been established between vaping and a weakened immune system according to one study. The study found that the vapor from an e-cigarette can cause an increase in the production of inflammatory chemicals in the lungs. These chemicals also weaken the protective cells of the lungs. With an already-weakened immune system, those who vape should be considered immunocompromised when looked at as a possible COVID-19 patient.
Vaping can affect the immune system, which in turn can put you at risk of complications from COVID-19. Merkel & Cocke, P.A. will be following the developments of any research that comes out. If you need experienced legal counsel in Mississippi, call us at 662-627-9641, or complete our contact form to schedule a consultation. We have offices in Jackson, Clarksdale, and Oxford to better serve our clients.

Since 1982, Merkel & Cocke, P.A. has offered thorough, aggressive legal representation on behalf of clients throughout Mississippi. As one of the largest plaintiffs' personal injury law firms in the state, we consider it our duty and our honor to serve the people of our communities, and to uphold their rights in court. Our reputation is such that other law firms turn to us when they need legal counsel, and our business has grown through the years because of the referrals of these attorneys, who trust us with their needs and the needs of their clients. We are the firm you can trust when there are challenges ahead. To schedule a free consultation, please complete our contact form.