Johnson & Johnson Knew There Was Asbestos in the Baby Powder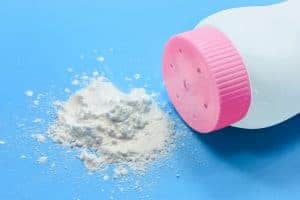 Johnson & Johnson (J&) is defending thousands of lawsuits that claim the company knew its talc powder causes ovarian cancer, due to the presence of carcinogenic asbestos. These product liability, breach of warranty, and negligence cases claim that J&J kept damaging information about talc from the public and from government regulators.
There are currently 11,700 plaintiffs who have filed complaints against Johnson & Johnson claiming that they developed ovarian cancer as a result of using talc-based products. After much prior litigation, including several successful lawsuits, new documents have been disclosed which confirm Johnson & Johnson's knowledge of the dangerousness of its talc products.
Reuters has begun the review of many of these documents. Their research shows that "from at least 1971 to the early 2000s, the company's raw talc and finished powders sometimes tested positive for small amounts of asbestos, and that company executives, mine managers, scientists, doctors and lawyers fretted over the problem and how to address it while failing to disclose it to regulators or the public."
The documents confirm the following disturbing findings:
There were contaminants in the talc that came from a J&J supplier in Italy that were described "as fibrous and 'acicular,' or needle-like, tremolite. That's one of the six minerals that in their naturally occurring fibrous form are classified as asbestos."
Similar findings of asbestos were found in documents prepared by J&J scientists, outside labs, and suppliers.
The documents reported into the early 2000s confirmed that there were contaminants in talc and in finished power products.
In 1976, J&J assured regulators that no asbestos was detected in its cosmetic talc products between the testing period December 1972 and October 1973 – even though "at least three tests by three different labs from 1972 to 1975 had found asbestos in its talc – in one case at levels reported as 'rather high.'"
According to the World Health Organization, there is no safe level of asbestos exposure. For some people, just a small amount can cause cancer to develop years later. Plaintiffs generally assert that their exposure to asbestos occurred when they inhaled the dust from the tainted talcum powder. Reuters emphasizes that it is the asbestos in the talc that triggers the disease, not the talc itself: "The assertion, backed by decades of solid science showing that asbestos causes mesothelioma and is associated with ovarian and other cancers, has had mixed success in court."
In one case, brought in St. Louis, 22 plaintiffs succeeded in showing that "asbestos-tainted Baby Powder and Shower to Shower talc, a longtime brand the company sold in 2012, caused ovarian cancer, which is much more common than mesothelioma." The jury award for the 22 plaintiffs was $4.69 billion.
The plaintiffs in talc cases where the claim is that the exposure caused ovarian cancer are often brought by women who claim that they regularly used the Johnson and Johnson talc products "as a perineal antiperspirant and deodorant."
J&J has won several of these cases and several have ended in mistrials. J&J is appealing the open verdicts. It claims its talc products are safe.
If you are suffering from ovarian cancer after using J&J baby powder, Shower to Shower, or other talc-based products, the Mississippi product liability lawyers at Merkel & Cocke, P.A. have the experience and resources you need. We've been fighting for injury victims and the families of deceased victims for 37 years. To make an appointment, call us at 662-627-9641 or fill out our contact form. We have offices in Jackson, Clarksdale, and Oxford.

Since 1982, Merkel & Cocke, P.A. has offered thorough, aggressive legal representation on behalf of clients throughout Mississippi. As one of the largest plaintiffs' personal injury law firms in the state, we consider it our duty and our honor to serve the people of our communities, and to uphold their rights in court. Our reputation is such that other law firms turn to us when they need legal counsel, and our business has grown through the years because of the referrals of these attorneys, who trust us with their needs and the needs of their clients. We are the firm you can trust when there are challenges ahead. To schedule a free consultation, please complete our contact form.