Merkel & Cocke Named to Best Law Firms for 2021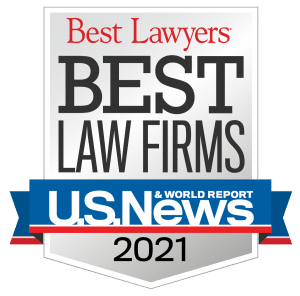 Merkel & Cocke, P.A. is pleased to announce that the firm has been chosen for inclusion in the 2021 edition of Best Law Firms. In fact, the practice was named Tier 1 in the Memphis metropolitan area for its work in:
Medical Malpractice Law for Plaintiffs
Personal Injury Litigation for Defendants
Personal Injury Litigation for Plaintiffs
Product Liability Litigation for Plaintiffs
The team at Merkel & Cocke was previously recognized as a Tier 1 Law Firm in 2020, and looks forward to continue representing clients. Our firm's attorneys consistently receive accolades and honors from objective ratings services each year – including Best Lawyers in America, Lawyers of Distinction, Top 100 High Stakes Litigators, National Trial Lawyers Top 100, and Super Lawyers.
The selection and ranking process
For eligibility in the Best Law Firms list, a firm must have at least one attorney who is recognized in the current edition of Best Lawyers in a ranked practice or metro area. Firms are asked to complete a survey, then submit it for peer review, along with client and professional references. These references are kept confidential, and Best Law Firms uses this information to determine a score, and name the firm to a specific Tier.
The Merkel & Cocke attorneys listed in Best Lawyers include:
At Merkel & Cocke, P.A., we believe in the work we do on behalf of our clients and are proud to see that hard work recognized. We look forward to the coming year and representing the people of Mississippi. To learn more about our services, please call 662-627-9641, or fill out our contact form.

Since 1982, Merkel & Cocke, P.A. has offered thorough, aggressive legal representation on behalf of clients throughout Mississippi. As one of the largest plaintiffs' personal injury law firms in the state, we consider it our duty and our honor to serve the people of our communities, and to uphold their rights in court. Our reputation is such that other law firms turn to us when they need legal counsel, and our business has grown through the years because of the referrals of these attorneys, who trust us with their needs and the needs of their clients. We are the firm you can trust when there are challenges ahead. To schedule a free consultation, please complete our contact form.