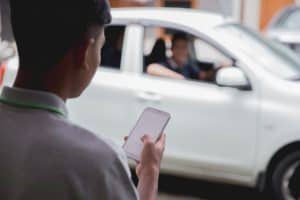 The old days of a general physician driving to your home are long gone. Car accident victims and other accident victims often need long-term medical care. Patients need to treat with multiple specialists in addition to their family doctor. Many victims need to see their physical therapists, psychologists, and other health providers multiple times over the course of months.
Many victims who can't drive themselves because of their injuries, or don't have a family member or friend to drive them to the doctor, end up skipping or rescheduling the appointments, and failing to get the treatment they need. For some doctors, the wait time can be weeks or even months.
USA Today reports that ride-sharing services Uber and Lyft are making their services known to hospitals and doctors who recommend them for their clients. Missed appointments cost health providers a lot of money. Worst of all, patients aren't getting the care they need. According to the USA Today story, missed appointments cost hospitals, doctors, and health providers nearly $150 billion yearly. Nearly 30% of patients fail to show for appointments.
Enter Uber Health, which the company describes as a HIPAA complaint, cost-effective, and reliable way to get to the doctor's office. Uber Health recently opened its operations after conducting an eight-month long trial with 100 health care practices. Lyft "built on a two-year effort to offer doctors its platform with a partnership with medical records company Allscripts that adds an estimated 7 million patients through 2,500 hospitals and 180,000 physicians," per USA Today.
How it works
Riders use their preferred app to arrange door-to-door service to and from the hospital, doctor, or other health provider. Uber and Lyft provide the drivers. The current ride-share programs require that the health providers do the scheduling. This way the providers can assign rides based on financial need. Costs are borne by the health providers (not the patient). Some costs are even covered by insurance.
The program is especially helpful for people who can't afford transportation and patients with dementia. Chris Needham, director of Member Health and Wellness at Renown Health in Nevada, told the paper "I'd say 70% of the time we're using Uber is to make sure that a patient that's been discharged makes it back for a critical follow-up visit." The ride-share companies are partnering with other companies to coordinate medical appointments and to identify patients who might have a need for their services.
Still, this may be an imperfect solution for a growing problem. Neither Uber nor Lyft cover people with disabilities, primarily because many operators can't manage wheelchairs. (Disability advocates have filed a class-action claim to force a remedy.) Furthermore, neither company assures that the driver is equipped to handle a medical emergency. If a rider has a heart attack on his or her way to a follow-up visit, there is no guarantee that the rider will be safe. It's not as though Uber drivers have the same equipment (or even sirens) as ambulances do.
Uber and Lyft should have one million dollars in liability coverage if an accident happens. There are requirements, though, such as that a paying passenger must be in the vehicle when the accident happens. An experienced ride-share accident attorney can explain whether this coverage applies if the medical provider pays for the ride and if the accident happens as you enter or exit the vehicle.
For any type of ride-share accident, the Mississippi car accident lawyers at Merkel & Cocke, P.A. are ready to help. We understand how to prove fault and we hold responsible parties accountable for your medical bills, pain and suffering, and lost income – when injuries occur. For aggressive help, call us at 662-799-1633 or use our contact form to schedule an appointment in Jackson, Clarksdale, or Oxford.