Recalled Products That Are Putting Lives at Risk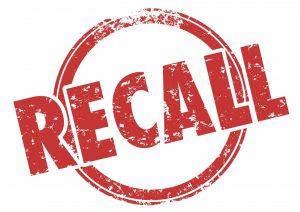 When a product is recalled, it is because the product is defective or harmful to people in some way. It may not function the way that it was intended to, which can put the lives of many people in jeopardy. The United States Consumer Product Safety Commission takes on the responsibility of announcing recalls to the public, making sure that everyone is aware of the problems with certain products while discontinuing the use of those products to prevent any serious and potentially life-threatening issues.
Recent medical recalls: endotracheal tubes
In the medical industry, recalls happen frequently. Medical professionals must be aware of these recalls, and should immediately stop using products that have been recalled due to defects, contamination, and any other issues. Some of the most recent recalls in the medical industry include multiple lots of Hudson RCI Sheridan Endotracheal Tubes. The models were released between the months of October of 2016 and May of 2019.
Endotracheal tubes are hooked up to ventilators, to create an airway for a patient, ensuring that he or she is receiving the right amount of oxygen when the patient is unable to breathe on his or her own. However, these tubes were recalled because the Sheridan connector could easily disconnect directly from the breathing circuit at random. While connectors are typically removable, they should not disconnect on their own and should only be removed from the breathing circuit when the medical professionals manually adjust the connectors at the right moment.
When the connector detaches from the breathing circuit, it can prevent the flow of oxygen from getting to the patient, ultimately preventing that individual from being able to breathe clearly and freely. A lack of oxygen could lead to brain damage and even death.
There have been nearly 200 complaints involving the disconnection issue. Unfortunately, the problem with the connector has caused at least two fatalities, along with additional injuries for at least one patient.
Those with concerns about these products should refer to the list of lot numbers to determine if they are currently using any of the defective medical products. The lot numbers were also included in the recall letter that was sent out to those who have purchased these products within the specified timeframe.
While most people tend to feel safe and comfortable in a doctor's office or hospital environment, it is possible for patients to sustain injuries as a result of faulty equipment that does not work properly. If you were injured when this product was used on you in the hospital or if someone you love has passed away because of the disconnection issue with the endotracheal tube, you need to hire an attorney and have professional legal support to get through this difficult time. Contact Merkel & Cocke, P.A. at 662-627-9641 or complete a contact form to schedule your consultation. We represent clients in Jackson, Clarksdale, Oxford, and throughout the state.

Since 1982, Merkel & Cocke, P.A. has offered thorough, aggressive legal representation on behalf of clients throughout Mississippi. As one of the largest plaintiffs' personal injury law firms in the state, we consider it our duty and our honor to serve the people of our communities, and to uphold their rights in court. Our reputation is such that other law firms turn to us when they need legal counsel, and our business has grown through the years because of the referrals of these attorneys, who trust us with their needs and the needs of their clients. We are the firm you can trust when there are challenges ahead. To schedule a free consultation, please complete our contact form.