Sudden Airbag Deployments Force Honda to Recall 137,000 Sport Utility Vehicles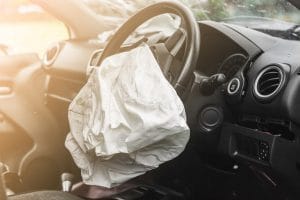 Reuters announced recently that Honda is recalling the 2019 CR-V following reports of several injuries due to the defective air bags. The airbags deployed even though the cars were not involved in crashes. The company will be replacing the "steering wheel wire harnesses and supplemental restraint system cable reels." The recall covers 118,000 US vehicles and 19,000 Canadian and Korean vehicles.
Honda said the recall is needed because "Metal burrs on the interior surface of the steering wheel may result in damage that could lead to a short circuit and overheating of components." The recall by Honda is not their first airbag recall. Previously, Honda recalled more than 21 million airbags installed in nearly 13 million American vehicles. The defective Takata air bag inflators were responsible, according to Honda, for 14 American fatalities.
In still another recall, Honda announced it was recalling another 19,000 vehicles where the replacement kits for the defective Takata inflators were improperly installed.
Recalls are usually made following reports of injuries or deaths. Some recalls are initiated by the car manufacturers. Other recalls are forced on the manufacturer through federal agencies such as the National Highway Transportation Safety Administration (NHTSA).
Liability for defective products
Companies like Honda and other car manufacturers owe consumers, drivers, passengers, and others a duty to make their cars, SUVS, trucks, motorcycles, and other vehicles safe. The manufacturers of these vehicles are in the best position to design their vehicles properly, to test the vehicles, and to respond to recall inquiries. Car makers should use quality parts and use quality workmanship standards.
Anyone who is injured because their vehicle had a defective part has the right to file a product liability claim against the manufacturer. Distributors and car retailers can also be held liable for injuries and deaths caused by defective vehicles and vehicle parts.
Car manufacturers and other vehicle manufacturers are held strictly liable. This means there is no requirements to prove the manufacturer was negligent. If the vehicle was defectively made or designed and the defect caused harm, the maker of the vehicle is liable for your pain and suffering, economic loss, and medical bills. Makers of defective SUV and other vehicle parts are also strictly liable to families if a loved one is killed because of the defective part.
At Merkel & Cocke, P.A. we work with engineers and safety experts to show that the products were defective. There is no need to prove the vehicle was subject to a recall. We demand all responsible parties compensate victims for putting profit before safety. To speak with a strong advocate, one with the experience to hold car manufacturers liable for defective vehicles, call 662-627-9641 or complete our contact form to make an appointment with an experienced Mississippi injury lawyer.
Our product liability lawyers have been fighting for injured drivers, passengers, and pedestrians for years. We file wrongful death claims, product liability lawsuits, and negligence cases on behalf of anyone injured in Mississippi including Jackson, Clarksdale, Oxford, Tupelo, and the Gulf Coast Region. We also represent clients in Arkansas and Tennessee.

Since 1982, Merkel & Cocke, P.A. has offered thorough, aggressive legal representation on behalf of clients throughout Mississippi. As one of the largest plaintiffs' personal injury law firms in the state, we consider it our duty and our honor to serve the people of our communities, and to uphold their rights in court. Our reputation is such that other law firms turn to us when they need legal counsel, and our business has grown through the years because of the referrals of these attorneys, who trust us with their needs and the needs of their clients. We are the firm you can trust when there are challenges ahead. To schedule a free consultation, please complete our contact form.