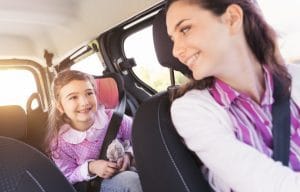 Auto accidents to children happen for many reasons. The child may be a passenger in the front seat or the back seat of a car. The child may also be struck by a car while the child is playing in the street or when the child crosses a street. There are different liability issues involving children and different medical considerations for children that skilled Mississippi car accident lawyers understand.
Wage and medical issues
In most cases, children do not have a work history which means they cannot make a claim for wage losses. Children who are entertainers or who do have a work history may be able to demand damages, after a car accident, for their reasonably expected financial losses.
Childhood injuries are different than adult injuries because children often can't express their pain and their reasons for the pain in the same way adults can. Children are in a state of growth which means their injuries need to be balanced and properly assessed to consider that all parts of the body, physically and emotionally, are changing.
Liability issues
Children who are passengers in a vehicle generally have the right to file a claim, through their parents or guardian ad litem, for any injuries. This even includes filing a claim against a parent who was speeding or negligent when the accident happened.
Children who are pedestrians or bystanders can also file claims for any injuries that occur if they are struck by a vehicle. In Mississippi, there is an irrebuttable presumption that a child under 7-years-of-age is incapable of negligence (even if the child chases after a ball in the middle in the street). A child between 7 and 14 is presumed incapable of negligence but the presumption can be rebutted. Children older than 14-years-of-age are presumed capable of negligence.
Mississippi child car seat safety laws
Seat belts may not prevent another car from striking your vehicle, but they can help save your life. The same is true for the lives of your children. However, in order to be most effective, you need to follow the laws regarding which children should be using which safety restraint systems. According to the Mississippi State Department of Health:
Infants/Toddlers. All infants and toddlers must ride in a "rear-facing car seat" until they outgrow (by weight and by height) the limits set by the manufacturer of the car seat. For most car seats, this means children under 2-years-of-age should be placed in a rear-facing car seat.
Toddlers and preschoolers. Very young children who have outgrown the rear-facing weight and height limits should be placed in a forward-facing car seat that has a harness – up to the time they are below the manufacturer's weight and height limits. These seats should be used in place of booster seats.
School-aged children. When a child outgrows the weight and height limits of the manufacturer's guidelines for a front-facing car seat, then the child should be placed in a "belt-positioning booster seat" with a properly fitted seat belt. Generally, children up to 4 feet 9 inches will need a booster seat.
Older children. When children are old enough, they should use a lap and shoulder seat belt. Generally, children shouldn't ride in the front of the car until they are 13-years-of-age.
If your child was injured in car accident, the Mississippi car accident lawyers at Merkel & Cocke, P.A. are ready to help your child get justice. We've been fighting for the rights of car accident victims of all ages since 1982. For help with any child accident claim, call us at 662-799-1633 or fill out our contact form to make an appointment. We represent parents and children in Tupelo and the Gulf Coast Region, including Jackson, Clarksdale, and Oxford. We also represent families in Tennessee and Arkansas.