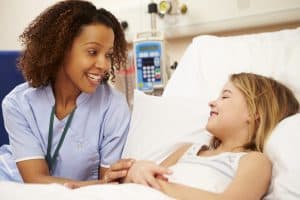 It's typical for many people to think that the bulk of work injury claims are filed by construction workers, drivers and other people who perform some kind of manual labor. The reality is, healthcare workers are among those workers who are routinely hurt the most. This is especially true for nurses who regularly must lift, bend, and move patients. As it turns out, they perform much more manual labor than you might think.
According to Becker hospital Review:
The work category that has the highest rate of nonfatal work injuries is nursing – according to the U.S. Bureau of Labor Statistics
82% of nurses say they are at significant risk for emotional injuries
25% of nurses say they have been physically assaulted
Nurses who can't work due to a workplace accident have the right to file for Mississippi workers' compensation benefits. If a nurse suffers a work-related accident, she/he can apply for state workers' compensation benefits. If a nurse contracts a disease through work, the worker can claim benefits based on having an occupational disease. Experienced Jackson work injury lawyers can often help even when the nurse is unable to help others due to the long-term effects of constant aches and pains.
Common nurse work injuries
Some of the many reasons nurses are hurt on the job are:
Handling patients. Nurses often suffer back, neck, and spinal pain due to lifting, moving, and carrying patients. Some of these injures are due to repetitive stress. Other injuries may be due to a one-time accident. Many times, one extra bit of force can be the one that pushes the nurse into the unable-to-work category.
Slips and falls. Nurses are focused on helping their patients. They're not focused on broken tiles, torn carpets, spills that haven't been clean, rails that aren't secure, and other property hazards. Nurses have the right to demand worker's compensation if they slip or fall at a hospital or any other medical facility.
Nurses regularly use needles and other sharp tools to take care of patients. Just one odd movement by a patient or one loss of concentration can cause the nurse to puncture their skin or even be injected with the contents of the needle.
Many nurses are also injured because the hospital is understaffed and the nurses are overworked. The more nurses work while they are tired or under stress, the more likely it is than an injury will occur.
Types of nursing injuries
If a nurse suffers a workplace injury or an occupational disease, the nurse has the right to:
Temporary disability payments of up to 2/3 of their average weekly wage until they can return to work or until the statutory limit is met
Permanent disability payments if they suffer a severe injury such as an amputation or loss of hearing
Permanent partial disability if the nurse can return to work but only to a less strenuous job or one that pays less than their pre-injury/pre-occupation job.
Payment for all reasonable medical expenses including surgeries, doctor visits, physical therapy, and possibly psychological help
Vocational retraining if necessary to enable the nurse to earn a living
There's no need to prove fault when a workplace accident or illness occurs. Employers are required to pay benefits, through their insurance, if the right conditions are met. At Merkel & Cocke, P.A. our Mississippi workers' compensation understand the conditional requirements. We work with your doctors and the hearing process to help you return to work when you're in good health – not when the employer needs you. We represent clients in Jackson, Clarksdale, Oxford, and nearby areas. To speak with an experienced work injury lawyer, please call us at 662.799.1633 or fill out our contact form.