Defective Tree Stand Injuries Related to Deer Hunting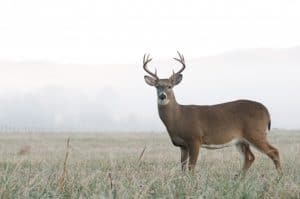 Here in Mississippi, deer hunting is permitted in one form or another October through February.
Hunters use various strategies and techniques to increase the odds of success. One of tools hunters rely on are tree hunting stands. Tree stands allow hunters to have better sight lines of the surrounding areas as well as help the hunter avoid being seen or smelled by their prey.
Hunters who use tree stands and tree platforms are at risk of falling, causing serious injuries such as spinal cord injuries, traumatic brain injuries, paralysis, broken bones, internal injuries, and cuts and bruises.  In tragic cases, hunters die from falls from these tree stands.
According to a study, there are numerous hunting accidents each year. This research, reported by the Mississippi Hunter Education Course, revealed that:
Nearly three-quarters of tree stand accidents occurred when the hunter was climbing up or down the stand or when the hunter was installing or removing the stand
Seven percent of tree stand hunters surveyed had an accident in the last 10 years
43% of the stands were self-climbing, 34% were fixed-position, and 18% were ladder stands
21% of the accidents were related to structural failure
The last statistic is noteworthy, because when death or injury occurs due to structural defects, then the victims and the families of any hunter injured have the right to file a product liability claim against the makers and sellers of the stand.  Several tree stand models have been recalled due to faulty design.
How a product liability claim works
Defective tree stand cases are different than a typical personal injury case. In most fall cases, the victim must prove that a company or someone was negligent – that they failed to take reasonable safety steps to protect the hunter.
In product liability cases, the victim must show that:
The product was defective or unreasonably dangerous when it was used
The defect is what caused your injuries
Injuries were indeed suffered as a result of the defect
Tree stands can be defective for these reasons:
Poor design or construction. Defective tree stands are likely to collapse or detach from the tree – causing the hunter to fall to the ground.
Poor materials. The stands were made with unsafe materials or with materials that didn't properly support the hunter.
Instruction defects. Injuries from tree stands may also occur because the assembly instructions were incorrect or poorly worded.
Insufficient warnings. The manufacturer failed to adequately warn the consumer (hunter) of dangerous uses or of the necessity of replacing parts that can become weak or brittle over time
There is no need to show that the manufacturer failed to run proper safety tests. The main requirement is to show the product was defective. That's why it's important to keep the product after an injury, so product safety experts can examine the product to determine what defect caused the accident. It also helps to preserve the packaging and instructions if possible.
Deer hunting should be a rewarding sport. Deer hunting injuries should not occur because the manufacturers put profit before your personal safety. Our Mississippi product liability attorneys work with engineers and other product experts to prove that a stand causing injury was defective. At Merkel & Cocke, P.A. we work with your doctors and independent physicians to verify how your injuries occurred, and to explain the full scope of your medical needs and pain and suffering resulting from your fall. We also file personal injury claims and wrongful death claims.
To discuss your rights to compensation, call us at 662-799-1633 or complete our contact form to schedule an appointment. We maintain offices in Jackson, Clarksdale, and Oxford, and represent clients throughout Mississippi.

Since 1982, Merkel & Cocke, P.A. has offered thorough, aggressive legal representation on behalf of clients throughout Mississippi. As one of the largest plaintiffs' personal injury law firms in the state, we consider it our duty and our honor to serve the people of our communities, and to uphold their rights in court. Our reputation is such that other law firms turn to us when they need legal counsel, and our business has grown through the years because of the referrals of these attorneys, who trust us with their needs and the needs of their clients. We are the firm you can trust when there are challenges ahead. To schedule a free consultation, please complete our contact form.