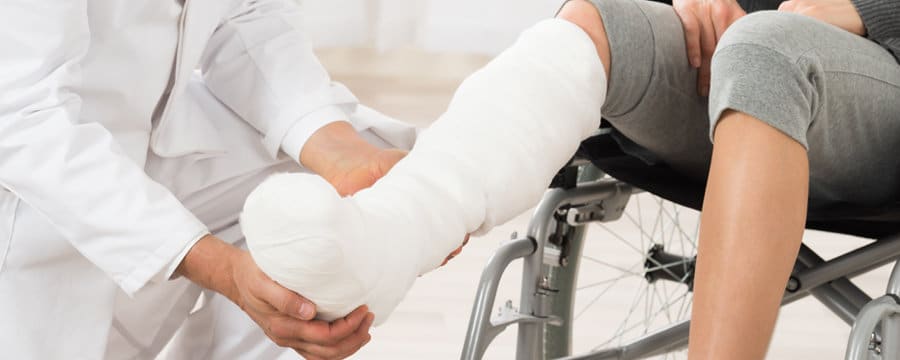 Mississippi Personal Injury Lawyers You Can Trust for Broken Bones
Proudly serving personal injury victims throughout the Delta and Gulf Coast regions
On average, six million people break bones every year. These incidents range from mild, non-displaced fractures, to severe open breaks that penetrate the skin. Necessary treatment varies, depending on the type of break. However, most patients must endure weeks or months of cast immobilization, along with possible surgery and physical rehabilitation.
When fractured or broken bones are caused by someone's negligence, the experienced lawyers of Merkel & Cocke, P.A. fight to obtain compensation for the victim's injuries. Our skilled team of attorneys has more than 200 years of collective experience, and we use our extensive knowledge to provide our clients on Mississippi with the highest level of honest and skillful legal representation.
Reliable representation for the most serious bone breaks
Fractures and breaks occur when an outside force places more pressure on the bone than it can withstand. Though bones are designed to "give" a little under pressure, too much force will cause them to break. The medical community generally classifies bone breaks according to the amount of displacement and puncturing of the skin. At Merkel & Cocke, we have seen various types of bone breaks, including those classified as:
Open compound factures. These are serious injuries where the broken bone pierces the skin. It may remain visible outside of the wound, or the bone may recede back into the body. This type of fracture carries a high risk of infection.
Closed fractures. These injuries occur when the bone fractures or breaks, but does not penetrate through the skin.
Stable or non-displaced fractures. When these injuries occur, the bone breaks or fractures, but it barely moves away from its proper alignment.
Comminuted fractures. This type of serious injury occurs when the bone fractures or breaks in three or more places.
Stress fractures. When a bone is utilized repeatedly, its strength and resilience can wear down, making it vulnerable to fractures or breaks.
Our knowledgeable Mississippi personal injury attorneys have the resources to handle even the most severe bone break injury cases. We work with skilled medical professionals to obtain an accurate assessment of your injuries and the medical treatment necessary for your healing.
Bone breaks can result from various accidents
As one of the most common types of personal injury, bone breaks can result from a variety of accidents, including:
Workplace accidents
Pedestrian accidents
Watercraft accidents
Even the most enjoyable recreational activity can end with a serious bone break when an individual or company fails to exercise proper care. Our attorneys have helped numerous bone break victims obtain compensation for the harms they endured. We can help you too.
Contact our Mississippi personal injury attorneys after a bone break or fracture
If you experienced a bone break or fracture as a result of someone's negligence, the lawyers of Merkel & Cocke diligently fight to protect your interests and ensure that you can afford the level of treatment necessary for a full recovery. We serve clients from our home office in Clarksdale, assisting injured parties throughout Mississippi, including Tupelo, Jackson Cleveland, Indianola, and across the Gulf Coast region. We also handle broken bone cases in Tennessee and Arkansas. Call us today at 662-627-9641 or complete our contact form to schedule your free consultation.