Innovative Care for Serious, Life-Threatening Burn Injuries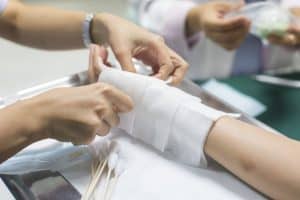 When a person has sustained a severe burn injury whether in a house fire, in a motor vehicle crash, or because of an industrial accident, they often require specialized care for their wounds. Throughout the United States, the health care system has developed a series of regional burn centers that can provide that care.
Patients who are admitted to the closest hospital after an accident or incident where they have suffered severe burn injuries are triaged and stabilized in the emergency department. The patients whose burns satisfy the criteria recommended by the American Burn Association may be transferred to a regional burn center to receive specialized burn injury care.
In Mississippi, there is exactly one level-one burn trauma center in the state: JMS Burn & Reconstruction Center at Merit Health Central, in Jackson. If you sustain life-threatening burn injuries in, say, Oxford, you'll likely be transferred to Al Simmons, over in Arkansas, or Regional over in Memphis, TN. While we're happy to have JMS, burns are the type of injuries that really need specialized care, and we'd do well to invest in devices, treatments and life-saving technologies in more centers.
Developments in burn care
An article published last year in the journal Plastic and Reconstructive Surgery reports that significant advances have been made in the past decade in resuscitation, burn wound management, sepsis, and reconstruction that have improved outcomes and quality of life after a thermal injury. There is still the increased risk of nosocomial infections (hospital-acquired infections), sepsis, compartment syndrome (a result of high pressure from bleeding or swelling after an injury), and venous thromboembolic phenomena (VTE occurs when a blood clot travels freely through the bloodstream), which have required specialized adjustments in care to provide quality of life after a burn injury.
Growing new skin for burn injured patients
A major development in burn wound management comes in the form of a seemingly miraculous device called Renovacare. This experimental device uses a patient's own stem cells, harvested from a piece of undamaged skin the size of a postage stamp, to create a suspension, which is then sprayed on the burned skin. Three days later when the bandage dressings were removed from the wounds of a test patient, the doctor was amazed to see that the burns were almost completely healed, and any risk of scarring or infection were gone. (There are before and after images in this Newsweek article. The before picture is hard to look at – but the after picture is amazing.)
If you have suffered a severe burn injury in Mississippi because of another person's negligence, you may be able to recover compensation for your injuries and losses. At Merkel & Cocke, P.A., our catastrophic injury lawyers have the know-how and experience to advocate on your behalf effectively. To set up a free consultation, please call 662-627-9641 or complete our contact form. We have offices in Jackson, Clarksdale and Oxford, and represent clients throughout the state.

Since 1982, Merkel & Cocke, P.A. has offered thorough, aggressive legal representation on behalf of clients throughout Mississippi. As one of the largest plaintiffs' personal injury law firms in the state, we consider it our duty and our honor to serve the people of our communities, and to uphold their rights in court. Our reputation is such that other law firms turn to us when they need legal counsel, and our business has grown through the years because of the referrals of these attorneys, who trust us with their needs and the needs of their clients. We are the firm you can trust when there are challenges ahead. To schedule a free consultation, please complete our contact form.