The Unscrupulous Practice of Balance Billing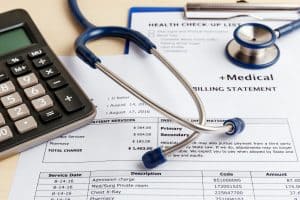 Many of us will require emergency medical care at some point in life. Depending on the type of ailment you have when the medics arrive, you may not have a say in who provides you with care, including the ambulance and the hospital to which you are taken. Unfortunately, some healthcare providers have figured out a way to overcharge patients in their hour of need through the practice of balance billing. This is certainly an unethical practice and in some states it is also illegal.
Balance billing as a common tool of insurers
The practice of balance billing occurs when a medical provider bills a patient for the difference between the amount of insurance allowed and the initial charge for the medical services. Certain states make this practice illegal. When Medicare is the primary form of insurance, often this practice is forbidden by state law.
Illegal in many states, including Mississippi
The process of healthcare billing is quite complex in nature. An ambulance service or hospital may have different reimbursement rates established with various private insurers or the rates may be set by the state. However, according to federal law, if the medical provider accepts Medicare, it must generally not attempt to collect anything from the patient other than a small co-pay.
When medical providers believe they have been insufficiently reimbursed, laws at the state and federal level generally prohibit these providers from compelling patients to pay the difference. Instead, hospitals and doctors should be dealing directly with insurance companies to obtain the remaining compensation.
This is how MS Code § 83-9-5 (2017) addresses the issue of balance billing:
"If the insured provides the insurer with written direction that all or a portion of any indemnities or benefits provided by the policy be paid to a licensed health care provider rendering hospital, nursing, medical or surgical services, then the insurer shall pay directly the licensed health care provider rendering such services. That payment shall be considered payment in full to the provider, who may not bill or collect from the insured any amount above that payment, other than the deductible, coinsurance, copayment or other charges for equipment or services requested by the insured that are noncovered benefits" (emphasis ours).
Although the anti-balance billing law provides certain protections to consumers in Mississippi, unfortunately it is not enforced on a consistent basis. According to Michelle Fuller, an employee benefit adviser in Hattiesburg, many medical providers are not aware of the law in Mississippi concerning balance billing. "When we make them aware of it and the administrators find that it is a legitimate law, they write off the balance bill," she said. A patient who receives a bill can contact the Mississippi attorney general or the Mississippi Insurance Department to obtain help mediating balanced bills.
A real life example of balance billing
As an example from another state indicates, patients can deal with balance billing issues for many months or even years after receiving treatment.
A specific case involves a retired auto service manager, Fred Chamberlain, who suffered severe complications from back surgery that resulted in spinal fluid leaking out of a surgery incision in his back. He was subsequently transported approximately 10 miles in an American Medical Response ambulance between hospitals in the Spokane, WA area.
For this 10 mile ambulance ride, Mr. Chamberlain received a bill for $878 after his insurance had already paid $302, which was about 30 percent higher than the typical Medicare pay out for this type of trip.
As Chamberlain explained, "They accepted whatever they could they could get from the insurance company and billed me for the rest of it." A full year and a half after the ambulance ride, he is still receiving collection agency letters regarding the ambulance charges. One letter he received from Bay Area Credit Agency stated that he owed an additional $110 of interest over and above the original $878 bill.
No matter how you're injured, you shouldn't have to worry about excess medical costs. Our state laws prohibit balance billing, so if you've been charged more than your fair share, Merkel & Cocke, PA can help. From our offices in Jackson, Clarksdale, and Oxford, we serve injured victims throughout Mississippi, including in Tupelo, as well as entire Gulf Coast region. Call us today at 662-627-9641 or complete our contact form to set up a free consultation about your case.

Since 1982, Merkel & Cocke, P.A. has offered thorough, aggressive legal representation on behalf of clients throughout Mississippi. As one of the largest plaintiffs' personal injury law firms in the state, we consider it our duty and our honor to serve the people of our communities, and to uphold their rights in court. Our reputation is such that other law firms turn to us when they need legal counsel, and our business has grown through the years because of the referrals of these attorneys, who trust us with their needs and the needs of their clients. We are the firm you can trust when there are challenges ahead. To schedule a free consultation, please complete our contact form.