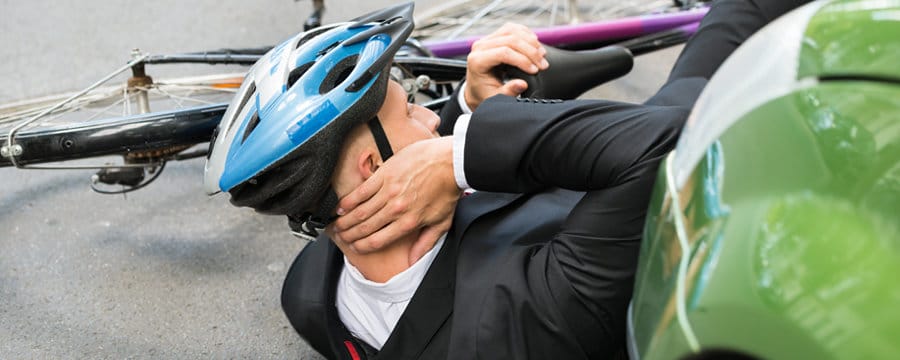 Mississippi Injury Attorneys Representing Bicyclists and Pedestrians
Fighting to get justice for injured riders and pedestrians across the Gulf Coast region
On most Mississippi streets, cyclists and pedestrians have just as much right to access the roadways as passenger vehicles, trucks, and motorcycles. From shopping in downtown Tupelo to biking on the streets of Biloxi, pedestrians and bicyclists frequently use the area's most popular roadways. Unfortunately, when vehicle operators fail to exercise reasonable care, they can cause great injury to vulnerable cyclists and pedestrians. These accidents require strong legal action from a law firm of experienced Mississippi vehicle accident attorneys.
At Merkel & Cocke, P.A., we know how to get the results you need. For more than three decades, our lawyers have fought for the rights of injury victims. We have the resources and knowledge to thoroughly research cyclist and pedestrian accidents to build compelling legal cases. We have obtained considerable verdicts and settlements on behalf of our clients, including a six-figure settlement for a pedestrian struck by a vehicle, who sustained permanent brain damage.
Pedestrian and cyclist fatalities are on the rise
The Governors Highway Safety Association (GHSA) reports that 5,977 pedestrians were killed in 2017 – about 16% of the total number of traffic fatalities for that year. Based on their estimates, Mississippi saw a 42% increase in pedestrian deaths between 2017 and 2018, the 6th highest increase in the nation.
The majority of these fatal collisions occurred at night, and 32% of pedestrians involved in a fatal collision were legally drunk.
The National Highway Traffic Administration (NHTSA) reports that in 2016 (the most recent year available), there were 840 cyclists killed in motor vehicle accidents across the U.S. This is a 1.3% increase from 2015. Unlike with pedestrian crashes, most fatal bicycle accidents occurred during the day, and 21% of all the fatal accidents involved a cyclist who was at or over the legal limit.
Why pedestrians and bike riders are getting hurt
The majority of bicycle and pedestrian accidents are a result of driver negligence, but riders and walkers are also engaging in some harmful behaviors, which could be linked to the increase in fatalities. Some of the reasons why pedestrians and cyclists are getting hurt can be traced back to:
People being distracted. "Distracted walking" is a real thing, and it's leading to people getting hurt. Because we use our smartphones for everything – GPS, online shopping, browsing the web, Facetime conversations, etc. – we are less engaged with our surroundings. Drivers and pedestrians alike need to put the phone away.
Music putting you in danger. Lot of Mississippians listen to music in the car, but when you are on a bike or walking, you have to use headphones. Because today's headphones (like Air pods) fit tightly in the ear, we can miss noise cues, like a honking horn, that would normally indicate we need to pay attention.
Unsafe walkways and roads. If you live in an area without any bike paths or sidewalks, the dangers of walking and cycling are obvious. The same is true, however, of more urban areas where street lights are broken, or where there is a lot of construction.
Special concerns for college and university students
Our attorneys have had multiple conversations with students from Ole Miss and Mississippi State, as well as Jackson State, Belhaven, Coahoma Community College, and other schools about incidents that take place on campus, and around local campus haunts. During the warmer months, students are far more likely to be out and about on their bikes, or walking along campus, which means they are at a greater risk of being injured. Some of the leading causes of injury for student bike riders and pedestrians include:
Drunk or drugged drivers
Reckless drivers
Poorly lit parking lots or pathways
E-scooters being left on walkways
Unmarked construction or other types of work being done on campus
Cyclists riding against traffic, or in a group as opposed to in a line
Pedestrians taking up an entire sidewalk, rather than walking single-file
If you are a college or university student who has sustained injuries while walking or riding your bike, a personal injury lawyer from Merkel & Cocke, P.A. may be able to help you.
Common injuries in bicycle and pedestrian accidents
While many Mississippi localities have made strides towards promoting bike safety on the roadways, cyclists are still at risk of serious injury. This is because car and truck drivers all too often fail to exercise care, particularly when driving distracted or intoxicated. When bicyclists or pedestrians are struck by vehicles, the resulting injuries are often severe, including such harms as:
Back injuries
Organ damage
Permanent scarring
Our skilled team of attorneys has seen numerous injury cases. We understand how fast medical bills can accumulate, with necessary treatments, rehabilitation, and lasting psychological challenges. These financial difficulties are further complicated when a victim is no longer able to work. That is why we fight to get you a fair settlement or verdict.
Popular paths for hiking, walking, and riding your bike
While Mississippi's more urban areas may not be ideal for a walk or a bike ride, there are a number of beautiful trails located throughout the state. Bike Walk Mississippi has a list of local walking and riding clubs, and you can find safe areas to walk or ride in:
Natchez Trace Parkway
Tanglefoot Trail
Longleaf Trace
DeSoto National Forest Bethel Bike Trails
Couch Bike Trail
Briar Patch Bike Trail
Badlands Bike Trail
Paul's Loop Bike Trail
Tombigbee National Forest
Delta National Forest
Bienville National Forest
You can also find information through the Mississippi Department of Transportation's Bicycle and Pedestrian program:
Lindsey N. Killebrew, Bicycle & Pedestrian Coordinator
P.O. Box 1850
Jackson, MS 39215
601.359.7685
Call us today to discuss your legal options after a Mississippi bike or pedestrian accident
If you were injured in a bicycle or pedestrian accident, you are going to need help. Contact the legal team of Merkel & Cocke, P.A. for reliable legal guidance from reputable Mississippi injury lawyers. We serve clients throughout the state from our offices in Jackson, Oxford and Clarksdale. We also handle vehicle accident cases in Tennessee and Arkansas. Call us today at 662-627-9641 or complete our online contact form. Your first consultation is free.