Dying at Work in Mississippi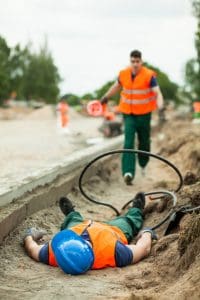 The National Employment Law Project has published a new report, Dying on the Job in Mississippi, which reveals that Mississippi workers face one of the highest on-the-job fatality rates of any state in the U.S. Mississippi workers also suffer hundreds of severe injuries every day, and they must deal with a workers' compensation system with benefits so low that they threaten to plunge injured workers and their families into poverty.
Here are some startling facts in the report:
Mississippi workers are twice as likely to be killed on the job than workers in the rest of the country.
Approximately four workers a week suffer from an amputation or an injury that puts them in the hospital.
Workers in Mississippi receive the lowest dollar amount in workers' compensation benefits of any state in the U.S., and they have the lowest maximum weekly compensation for temporary total disability.
In 2016, there were only 11 OSHA inspectors in the state of Mississippi. It would take OSHA over 130 years to inspect every workplace under its jurisdiction in Mississippi just once.
The Bureau of Labor Statistics (BLS) reports that there were 77 fatal work injuries in Mississippi in 2015, with the largest percentage of those fatalities from transportation accidents (48%), contact with object and equipment (17%), as a result of violence or other injuries by a person or an animal (14%), or from slips, trips and falls (13%). About 8% were other injuries.
The Clarion Ledger tells the story of a Mississippi worker who had to have surgery for nerve damage she suffered in her hands at work. She had to take two months off to recover, and during that time she received about $130 per week in workers' compensation benefits. Because the doctor's order required that she be placed on light duty after she returned to work, she was fired. She later received a settlement for the permanent injury to her hands, and now she works as an advocate for better working conditions and to educate employees about their right to a safe work environment with a local non-profit.
The Ledger story reports that there are people who work despite being injured. They do not report their injuries and they do not file workers' compensation claims or get medical care because they live in fear of being fired.
If you should become injured or be diagnosed with an occupational disease, you must seek medical care, and report it to your employer immediately. There is a 30-day time limit for you to give notice of your illness or injury to your employer, but you have two years to file a workers' compensation claim.
If you are facing any type of dispute with your employer's workers' compensation insurer, or with the Mississippi Workers' Compensation Commission, an experienced workplace injury attorney from the injury law firm of Merkel & Cocke is ready to help you.
You can rely on the workers' compensation lawyers of Merkel & Cocke to fight on your behalf for compensation for your work-related injuries. From our offices in Jackson and Clarksdale, we also serve injured and ill clients throughout Mississippi, including in Tupelo, and throughout the Gulf Coast Region. We can also take cases in Tennessee and Arkansas. You may call us at 662-627-9641 or complete our contact form to schedule a free consultation today.

Since 1982, Merkel & Cocke, P.A. has offered thorough, aggressive legal representation on behalf of clients throughout Mississippi. As one of the largest plaintiffs' personal injury law firms in the state, we consider it our duty and our honor to serve the people of our communities, and to uphold their rights in court. Our reputation is such that other law firms turn to us when they need legal counsel, and our business has grown through the years because of the referrals of these attorneys, who trust us with their needs and the needs of their clients. We are the firm you can trust when there are challenges ahead. To schedule a free consultation, please complete our contact form.