Retail Workers Have a Higher Injury Rate Than Construction Workers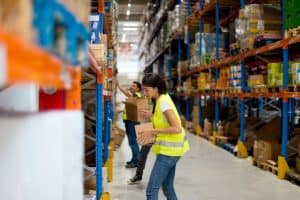 Mississippi is a great place to live and to work. With all the casinos and entertainment along the Gulf Coast, we bring in a lot of tourists and locals who frequent the attractions, shops and markets all over our state. Retail employees work hard provide the goods and services we need to keep our homes and businesses going.
They also keep us from getting hurt by keeping their shops and premises safe from hazards. But who looks out for workers while they're busy cleaning up, stocking shelves, and clearing out debris after-hours? Retail workers are at risk of accidents on the job just like everyone else, and a surprising report shows that they actually have a higher injury rate than construction workers.
A recent report from the Bureau of Labor Statistics (BLS) revealed that retail workers have the third highest incidence of non-fatal injuries and illnesses in the nation. Construction workers come in number six on this list. In fact, retail workers suffer these non-fatal injuries at more than twice the rate as construction, agriculture, and mining and oil workers.
Unfortunately, many retail workers may not report their injuries or job-related illnesses due to a fear of having their hours or shifts cut, or that they may lose their jobs. However, it's illegal for an employer to retaliate if you're injured on the job. You have the right to not only keep your job, but to file for workers' compensation to cover the costs of your medical care and part of your lost wages when you need time off to recover from your injuries.
Common retail worker injuries
Any retail environment, whether it's in the service industry, entertainment industry, casino or a shop, can put you at risk for an injury on the job. For example, workers who unload boxes of product from a truck to a warehouse or storage room can suffer injuries like sprains and strains, soft tissue injuries, back pain or musculoskeletal disorders.
Kitchen employees or stockroom workers can get cut or lacerated from knives, box cutters and other sharp tools. Stock and warehouse employees are also at risk of injury from forklift or other large machine accidents, resulting in fractures, broken bones, crushing injuries, or death.
Slip and falls are another on-the-job hazard for retail workers, whether it's a spill on the floor or an improperly plowed or salted walkway. Repetitive stress injuries are also common, especially for cashiers or data entry operators.
Workers' comp for injuries on the job
Employers have a responsibility to keep the workplace safe and free of hazards. However, sometimes accidents happen and, in that case, they also have a responsibility to provide you with workers' compensation. When you're injured on the job, you shouldn't have to shoulder the burden of paying your medical bills and giving up your income while you recover from your illness or injury.
Our experienced Mississippi workers' comp attorneys can talk to you about your situation and work with you to file your claim or help you with a claim that was denied.
At Merkel & Cocke, P.A., we protect the retail workers of Mississippi when they're injured on the job. Our workers' compensation lawyers help you secure the benefits and compensation you need and deserve to recover from your injuries and get back to work. Our lawyers have offices in Oxford, Jackson and Clarksdale. Call us today at 662-627-9641 or complete our contact form to schedule a free consultation.

Since 1982, Merkel & Cocke, P.A. has offered thorough, aggressive legal representation on behalf of clients throughout Mississippi. As one of the largest plaintiffs' personal injury law firms in the state, we consider it our duty and our honor to serve the people of our communities, and to uphold their rights in court. Our reputation is such that other law firms turn to us when they need legal counsel, and our business has grown through the years because of the referrals of these attorneys, who trust us with their needs and the needs of their clients. We are the firm you can trust when there are challenges ahead. To schedule a free consultation, please complete our contact form.