Greenville Workers' Compensation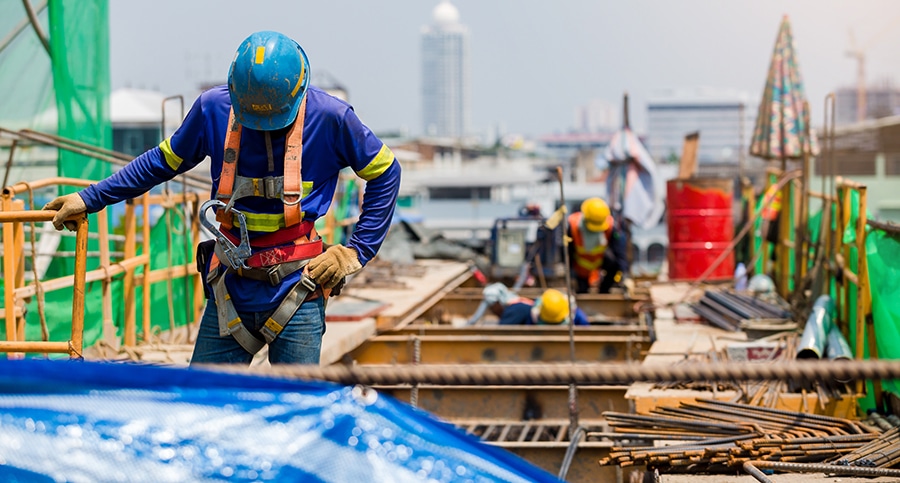 Greenville Workers' Compensation Attorneys
Fighting for the rights of injured workers in Mississippi
With a population close to three million people, Mississippi is widely known for its agriculture, manufacturing,     and tourism. These industries create thousands and thousands of jobs for our citizens, providing employment opportunities in anything from warehouses to retail stores to corporate offices. Our workers keep our economy going, and in return, employers provide them a living wage and benefits.
If you are injured on the job, one of those benefits is workers' compensation. Workers' comp allows injured employees to receive partial wages and benefits when injured in the workplace. This allows the employee to recover and heal from their injuries or conditions. The workers' compensation attorneys at Merkel & Cocke, P.A. ensure that if you are hurt at work, you secure the benefits to which you are entitled.
What is Mississippi workers' compensation?
In a nutshell, workers' compensation is a type of insurance program that provides partial wages and benefits in the event you are injured during the scope of your job. Workers' comp is a program designed to protect the rights of workers, and these benefits are typically part of your employee rights.
The Mississippi Workers' Compensation Commission (MWCC) outlines who is covered by workers' compensation:
Most working Mississippians are protected by the Workers' Compensation Law, but there are exceptions. All employers with five (5) employees regularly employed are required to provide workers' compensation insurance coverage. If the employer has less than five (5) employees, workers' compensation coverage is not mandatory but may be provided voluntarily by the employer. Domestic and farm labor, and employees of non-profit fraternal, charitable, religious or cultural organizations are not covered under the Law unless coverage is provided voluntarily by the employer.
Workers' comp is a no-fault system, which means that injured workers are eligible to receive benefits without having to prove that their employer or workplace caused the injury. Even if your accident and injury was partially your fault, you are still eligible for benefits – with the caveat that you waive those rights if you are acting recklessly or under the influence of drugs or alcohol.
What workers' comp benefits are available to me as a Greenville employee?
According to the MWCC, workers' compensation provides two basic benefits to the injured worker.
Medical benefits. Injured workers have the right to whatever "reasonable and necessary medical services are required to treat the injury and achieve maximum cure." These benefits can include things like doctor and hospital visits, physical therapy, medications and other expenses.
Wage loss benefits. If the worker's injury causes them to miss time from work, they are entitled to benefits of "two-thirds of the workers' average weekly wage, subject a maximum weekly amount and to certain time limits." This is called temporary disability, payable until the worker reaches maximum cure. In the event the worker is unable to return to the job, additional permanent disability benefits may kick in.
Workers' compensation benefits are required to be paid at least every two weeks as long as the disability continues. The attorneys at Merkel & Cocke, P.A. work with injured employees to ensure they receive all the benefits to which they're entitled – and if your claim is denied or delayed, we go to work fighting for you.
What should I do if I am injured at work?
If you are hurt on the job, you must act quickly; not only to protect your health but also to protect your workers' compensation claim. Taking the right steps at the right time helps build a better and stronger claim:
After receiving any necessary emergency treatment, notify your employer immediately about your injury, accident, or diagnosis. Typically, you will have to fill out a formal report or document regarding your injury.
Although you have 30 days to report your injury, do not wait. Your workers' comp claim may be denied if you don't report your injury as soon as possible.
File a claim with the Mississippi Workers' Compensation Commission.
Follow all treatment and after-care protocol from your doctor. Even moderate injuries and conditions can quickly turn serious if you do not follow your doctor's instructions. Further, failure to follow treatment could invalidate your workers' comp claim.
If you have any questions about how the workers' compensation process works, contact the lawyers at Merkel & Cocke, P.A. today.
Why was my Greenville workers' compensation claim denied?
Our experienced attorneys provide informed guidance about the workers' compensation process, and smart strategies to assist you in the event your claim is denied. Workers' comp, at its core, is a binding process and many workers can benefit from having the strength of an attorney on their side.
In our experience, workers' comp claims are denied for the following reasons, although this not an exhaustive list:
Failing a drug or alcohol test
Failing to notify an employer of an accident, injury or condition by the required deadline
Failure to seek timely or proper medical treatment regarding the injury
Failure to use an authorized doctor for medical treatment
Filing a workers' comp claim immediately after job termination or action
Having a pre-existing condition
If the injury did not occur on the job or during the scope of work
If there were no witnesses to your accident
If your workers' comp claim is denied, our attorneys can help you file an appeal and fight until you obtain your benefits. Some companies may deny benefits for illegal reasons, like retaliation. We understand the tactics those companies use and are prepared to represent your best interests.
What if my loved one is killed on the job?
Workers' compensation benefits also apply in the event an employee is fatally injured while performing their job duties. The worker's surviving spouse and dependents have the right to claim these benefits, as described by the MWCC:
"These benefits are payable at least every 14 days, and may continue for up to 450 weeks after the decedent's death. These benefits equal a certain percentage of the deceased worker's average weekly wage, and are subject to a weekly maximum amount set by statute. Also, the employer or its insurance carrier is obligated to pay up to $5,000.00 in funeral expenses, as well as an immediate lump sum payment of $1,000.00 to the surviving spouse."
Our law firm also works with the families of employees who suffer fatal injuries, ensuring the workers' compensation process goes smoothly when you need it the most.
Reliable workers' compensation attorneys serving Greenville MS
When you are injured on the job and your claim is denied, talk to the workers' comp attorneys at Merkel & Cocke, P.A.. We understand that you need to recover from your injuries and pay your bills, as is your right as an employee. To learn more about our services, or to schedule a no-cost, no-obligation consultation with a lawyer, please call 662-592-3110 or fill out our contact form. We have offices in Greenville at 540 Main Street in the ICON Building.