Greenville Truck Accidents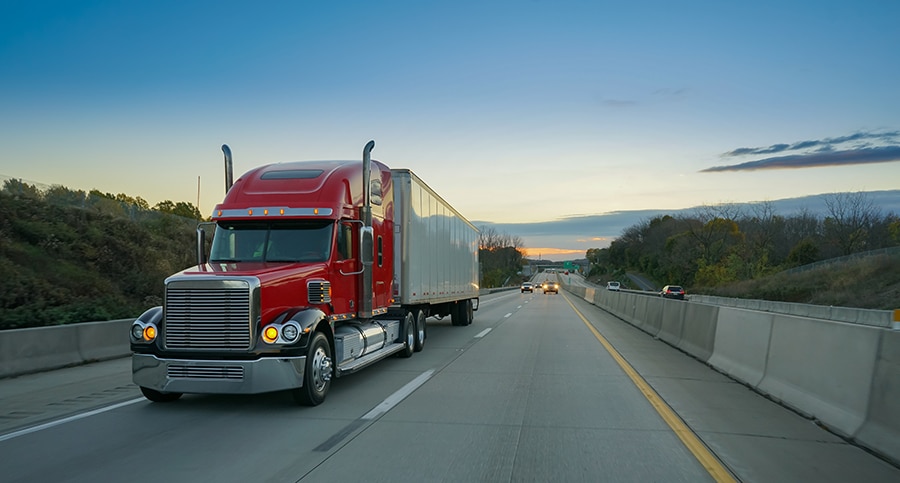 Experienced Greenville Truck Accident Attorneys
Mississippi lawyers who stand up to big trucking and insurance companies
Truck and trucking companies are responsible for the safety of the vehicles they build, manufacture and put on the roads. Truck drivers, by the same theory, are responsible for the safe operation of those vehicles – obeying traffic laws and rules of the road. When unsafe trucks, or unsafe drivers, cause an accident, the results can be catastrophic.
The personal injury attorneys at Merkel & Cocke, P.A. put their decades of experience to work when you or a loved one were hurt in a truck accident. We understand the significance of these types of accidents, and know how to put together the strongest case possible on your behalf, seeking full compensation for your losses and damages. Talk to us today.
Large truck accident statistics
The National Highway Traffic Safety Administration (NHTSA) defines trucks, tractor-trailers and big rigs as vehicles with a gross vehicle weight rating over 10,000 pounds. The NHTSA also states that, in 2018:
4,951 people were killed in accidents involving large trucks.
71 percent of those people were occupants of other vehicles and 11 percent were pedestrians or bicyclists.
2 percent of truck drivers involved in fatal accidents had previous accidents.
Three percent of truck drivers involved in fatal accidents had blood alcohol concentration (BAC) over the legal limit.
Further, in 2018, tractor-trailer trucks made up nine percent of all vehicles involved in fatal crashes, and four percent of all vehicles involved in injury or property damage accidents.
How do Greenville truck accidents happen?
People always say, "Sometimes accidents just happen." This is true, and sometimes an accident is not anybody's fault. However, sometimes there is a very real cause to an accident that harms you, and at Merkel & Cocke, P.A., we work to find out why. Common causes of truck accidents include:
Truckers must follow the same traffic rules as everyone else, and that includes speeding or reckless driving. Any type of injury from a tractor-trailer accident can range from moderate to catastrophic.
What are some common injuries from tractor-trailer accidents?
For a truck accident survivor, injuries can take a long time from which to recover (if ever) as well as require years of medical care. For some injured individuals, medical care may last a lifetime. Following are some of the more common injuries from truck accidents:
These types of injuries may require a great deal of medical care or physical therapy, which can cause you to miss weeks or months of work. And while this all happens; your bills are piling up. Merkel & Cocke, P.A. can help ease your stress.
What is my Greenville truck accident claim worth?
When we take your case, the first thing we do is find out who or what was at fault for your accident. Because all accidents are unique, we work with your specific situation to determine the amount of compensation to which you are entitled. Our attorneys typically seek financial compensation for:
Medical expenses, past and future
Lost wages, past and future
Pain and suffering
Property damage
Medical expenses can include things like hospital visits, doctor bills, physical rehabilitation, surgeries, and prescription medications. Pain and suffering can help compensate you for the non-financial injuries you've experienced, like depression, anxiety, or post-traumatic stress disorder.
How our truck and tractor-trailer accident attorneys can help
Because trucks deliver the goods and supplies we need across the country, there are federal regulations set in place to protect everyone on the road, including the drivers themselves. The Federal Motor Carrier Safety Administration has outlines these regulations, which are also available for public search. Trucking companies risk penalties, fines and possibly criminal prosecution when they violate or allow their employees to violate these regulations.
Merkel & Cocke, P.A.'s experience with both state and federal law makes our firm an excellent choice when you need representation for a complex accident claim.
It is also important to keep in mind that the state of Mississippi's statute of limitations for personal injury cases could, in some cases, be as short as one year. The sooner you contact a personal injury attorney, the better. Our legal team helps ensure your claim is documented and handled properly.
Reputable Greenville truck accident lawyers
After an accident with a tractor-trailer, you may be facing a confusing maze of state and federal law. The attorneys at Merkel & Cocke, P.A. can take that stress and uncertainty off your hands. Let us take your case while you take time to heal. We help clients seek fair and full compensation when they are injured due to others' negligence. To learn more about our services, or to schedule a no-cost, no-obligation consultation with a lawyer, please call 662-592-3110 or fill out our contact form. We have offices in Greenville at 540 Main Street in the ICON Building.