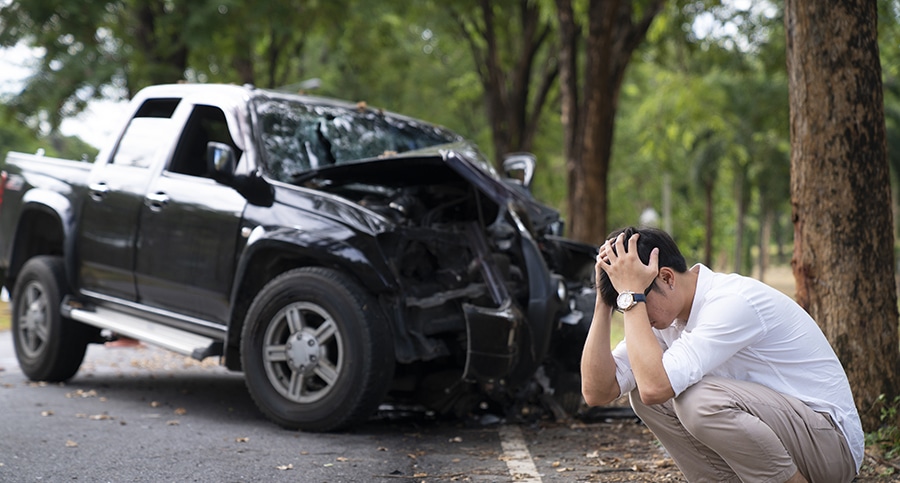 Greenville Auto Accident Attorneys On Your Side
Strong representation for Mississippi car accident victims
A car accident can change your life in an instant. The physical and emotional trauma of an accident can be challenging to overcome, along with the financial issues that come along with experiencing an injury. From medical bills to lost time from work, many car accident victims are left struggling to put things back together.
At Merkel & Cocke, P.A., our personal injury attorneys dedicate themselves to your car accident case, working to ensure you secure the proper compensation for your losses. Our decades of experience, as well as our dedication to excellence and commitment to our clients, provide you with the legal resources you need as you take the time to heal from your injuries.
Car accidents in Mississippi
Driving a car is necessary for most people, especially to travel back and forth from work or school. However, it does not come without its risks. Coverage.com, an insurance company, reports a few accident and injury statistics about driving in the United States, and Mississippi in particular.
There are close to 274 million registered vehicles on the road across the country. Using data gathered from the National Safety Council (NSC), Coverage.com discovered that Mississippi has the highest number of car accident-related fatalities in the United States. Other "dangerous to drive" states include Alabama, South Carolina and New Mexico. Mississippi in particular has 23.6 traffic deaths for every 100,000 residents.
Auto accidents happen for a variety of reasons, and the car crash attorneys at Merkel & Cocke, P.A. investigate every detail of your case to ensure the right parties are held accountable for your injuries.
What are the different types of car accidents?
The kind of car accident in which you are involved can affect the type of injury you experience, as well as the amount of damage inflicted on your vehicle. Our Greenville car accident attorneys handle a wide variety of car accident cases, and understand how to build a strong case proving the negligence of the at-fault driver.
Head-on collisions
Rear-end accidents
Side-impact accidents
Parking lot accidents
Rollover accidents

T-bone accidents
Motorcycle accidents
If you or a loved one are injured in an accident that was not your fault, you may be eligible to seek compensation from the person or party that caused you harm. Serious injuries from auto accidents can be long-lasting, requiring tens of thousands of dollars of medical care – now and in the future.
Common injuries from Greenville auto accidents
With all of these different types of car accidents, there are a variety of injuries that can come along with them. Car accident injuries can range from moderate soft tissue trauma to catastrophic or fatal injuries, including:
Back and neck injuries. In accidents like rear-end collisions, the upper body and neck can whip back and forth quickly, resulting in tendon or muscle injuries like whiplash.
Broken bones and fractures. Auto accidents can also cause broken bones, like arms, wrists and collarbones. Depending on the force of the accident, individuals can also suffer broken legs, backs or pelvises.
Loss of limb. Serious car accidents, especially those that involve crushing injuries, can cause loss of limb (amputation). This can lead to permanent disability, medical bills and inability to work.
Spinal cord injuries. Spinal cord injuries (SCI) can be life-changing for victims. Depending upon where the trauma occurred on the spine, individuals with SCI from a car accident can experience partial to total paralysis.
Traumatic brain injuries. Also called TBI, these types of injuries can range from a mild concussion to a coma. Traumatic brain injuries can resolve on their own, or may cause symptoms for a lifetime.
The Greenville car accident lawyers at Merkel & Cocke, P.A. understand how to calculate the right amount of compensation you need and deserve to make things right again.
What is my Greenville car accident claim worth?
Determining the value of an auto accident claim is not a one-size-fits-all formula, even though the insurance adjuster might punch in a few numbers and come up with a quick (but likely inaccurate) result. Our attorneys go through every last detail when making a claim on your behalf, including seeking compensation for:
Decreased quality of life
Loss of consortium
Medical bills, past and future
Pain and suffering
Property damage
Wage loss, past and future
Wrongful death, funeral and burial expenses
We work with our network of professionals, including accident reconstruction specialists, to discover exactly what happened and who was responsible. When we take your case, we meticulously calculate your losses and damages with an eye toward the future – making sure that you are able to recover from your injuries and move forward.
How our car accident attorneys can help
Experiencing an auto accident that wasn't your fault can be emotionally, physically and financially traumatic. It is important to have the right attorney on your side, one who will fight for the full settlement you deserve for your injuries. At Merkel & Cocke, P.A., we keep you informed throughout the process, answering your questions and concerns when you need them answered. We can:
Conduct an independent investigation into the accident
Analyze the full scope of your related injuries and damages
Prepare your case for settlement or trial
We answer all your questions and concerns before making any moves or decisions on your behalf – your best interests are our only priority.
Mississippi has different statutes of limitations for different types of personal injury cases, which means it is vital to contact an attorney as soon as possible after an accident. This helps you, and us, build the strongest possible case and document your initial injuries. The longer time passes, valuable evidence can disappear or be forgotten. Our attorneys ensure evidence and witness statements are discovered and documented immediately.
Experienced Greenville car accident attorneys
If you have suffered injury in an auto accident, ensure you receive proper and timely medical treatment. Then, turn to the attorneys at Merkel & Cocke, P.A. can help. We help clients seek fair and full compensation when they are injured due to others' negligence. To learn more about our services, or to schedule a no-cost, no-obligation consultation with a lawyer, please call 662-592-3110 or fill out our contact form. We have offices in Greenville at 540 Main Street in the ICON Building.