Greenville Medical Malpractice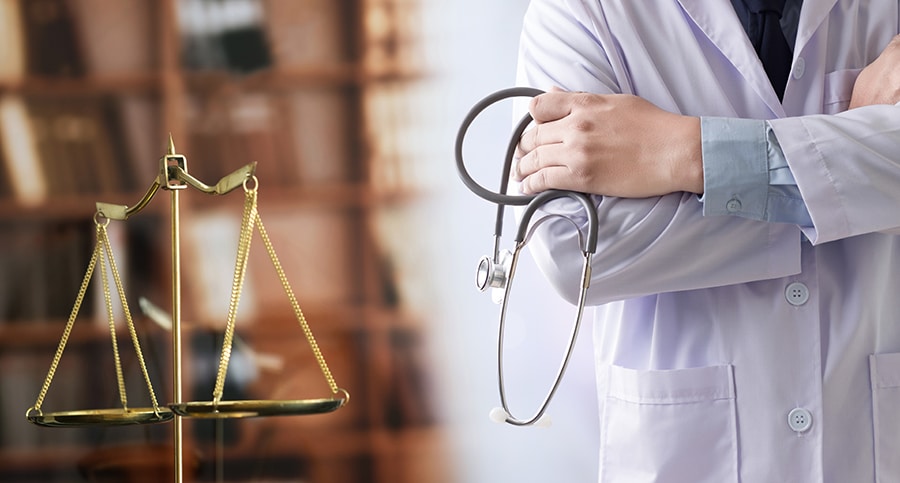 Dedicated Greenville Medical Malpractice Attorneys
Protecting Mississippi residents seriously injured by medical negligence
Medical negligence is one of the leading causes of preventable death in the United States. When you entrust your health and life with a medical professional, that doctor or nurse has the responsibility to care for you properly and in the best manner possible. If they fail in that duty, you may find yourself in even worse health than you were before. Malpractice can also cause a patient to suffer fatal injuries.
At Merkel & Cocke, P.A., our personal injury attorneys have been representing the rights of injured patients for decades. We understand the deep complexities of a medical malpractice case, securing a $23.6 million jury award for a client, one of the highest in state history. When you work with us, you have a focused and experienced medical malpractice legal team on your side.
Facts about medical malpractice
Medscape's 2019 Malpractice Report states that more than half of physicians will be named in a malpractice lawsuit at some point in their careers. Other notable medical malpractice facts from their report, researched via interviews with over 4,300 physicians:
Specialists are sued more often than primary care physicians.
Out of these, approximately half are named in a lawsuit along with other parties.
Surgeons are sued most often, followed by urologists, ENTs, and obstetrician/gynecologists.
Failure to diagnose/delayed diagnosis is the most common reason for malpractice claims.
Over half of physicians who had been sued felt the outcomes from their cases were fair.
If given the chance to do things differently, many physicians claimed they would have kept better medical chart documentation.
Medical malpractice occurs when a doctor, surgeon, hospital or other medical professional causes a patient injury – through a negligent action or a negligent failure to act. Its formal definition is "any act or omission by a physician during treatment of a patient that deviates from accepted norms of practice in the medical community and causes an injury to the patient."
For malpractice to exist, there must be a direct link between the negligence and a patient's injuries and losses. These losses can include pain, lost income, disability, or wrongful death. Our Greenville attorneys work to prove malpractice occurred and ensure you are properly compensated for your losses. Merkel & Cocke, P.A. can help.
Greenville medical malpractice cases we handle
Our attorneys represent clients in a variety of malpractice claims, including:
If you have questions about whether or not you have a medical malpractice claim, let us provide you the answers you need.
Greenville area hospitals and health risks
The Leapfrog Group, a patient safety advocate organization, ranks the safety of hospitals around the country. They provide the public with grades on local hospitals, including safety records, surgical errors, staff and infection rates.
Leapfrog Group's information on Greenville-area hospitals include:
How do I know if my injury is medical malpractice?
Because malpractice cases require a preponderance of evidence to prove, it is important to understand what is and what is not medical malpractice. Following are some examples of negative medical outcomes that would not constitute medical malpractice. A patient is unlikely to have a successful malpractice case if:
They receive specific instructions regarding medication, aftercare, and other doctor's orders after a procedure or surgery and fail to follow up.
Their doctor provided proper informed consent regarding a procedure, but the patient's outlook did not improve.
They underwent an elective surgery or procedure that went as planned but they were unhappy with the results.
There are unfortunate events where you may feel your doctor failed you, but this does not constitute medical malpractice on its own. However, our Greenville attorneys strongly recommend consulting with a legal professional for guidance if you feel your medical professional acted carelessly and negligently.
Who is liable for my medical malpractice claim? What is it worth?
If you suffer injury from medical malpractice, there may be any number of liable parties. This can include the medical professional, the hospital or clinic, the pharmaceutical company, or even a medical parts manufacturer. Our attorneys will investigate to find all negligent and liable parties and hold them accountable for their actions.
Damages for a medical malpractice claim should include what it takes to make you "whole" again. Courts calculate these damages on both economic and non-economic factors, including:
Medical expenses, current and future
Lost wages and decreased earning capacity
Pain and suffering
Loss of enjoyment of life
Punitive damages (in some cases)
Our legal team works to ensure you receive the maximum amount of compensation possible. Although nothing can take your injury and loss away, these types of cases also act as a deterrent to negligent medical professionals and hospitals around the country. We will stand beside you and fight for your rights.
Remember, the statute of limitations for medical malpractice here in Mississippi is two years from the date of the negligent act or discovery of injury. This is why it is crucial to get experienced counsel on your side as soon as possible.
Greenville medical malpractice lawyers with experience
If you believe you or a loved one were injured due to medical malpractice, the attorneys at Merkel & Cocke, P.A. are here to help. We have a nationwide reputation for securing fair and proper settlements for victims of physician negligence. To learn more about our services, or to schedule a no-cost, no-obligation consultation with a lawyer, please call 662-592-3110 or fill out our contact form. We have offices in Greenville at 540 Main Street in the ICON Building.