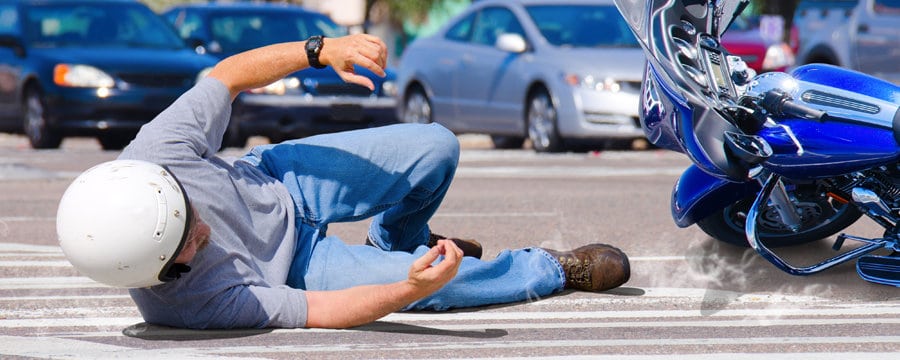 Trustworthy Mississippi Motorcycle Accident Lawyers on Your Side
Advocating for motorcyclists in Clarksdale, Tupelo, Jackson, and across the Gulf Coast
Motorcycles lack the protective body frame that is found on passenger cars and trucks. While this openness and freedom is what calls many riders to such Mississippi roadways as the Natchez State Parkway and State Road 514, it is also what makes these vehicles extremely dangerous for riders when involved in an accident.
The lawyers of Merkel & Cocke, P.A. believe that motorcycle riders deserve to be made whole when injured by the negligent actions of drivers on the roadway. Using our vast resources and skill, our knowledgeable Mississippi motorcycle injury lawyers work together with you to review the details of your accident and create a strategy to obtain a fair and just outcome in your case.
What are the most common types of motorcycle injuries?
Motorcycle accidents can be extremely violent, often resulting in severe injuries. At Merkel & Cocke, our experienced accident lawyers have seen riders with various types of serious injuries, including:
Brain injuries. Though motorcyclists are required by Mississippi law to wear helmets, this protective gear is not always sufficient to completely guard against potential brain injuries following a crash. According to the Insurance Institute for Highway Safety, motorcycle helmets are only about 37% effective at preventing wrongful deaths, and 67% effective at preventing traumatic brain damage.
Fractures and breaks. These injuries may result from the operator being flung from the bike or the bicycle landing on top of the rider. Bone fractures can sometimes go unnoticed directly following an accident due to the influx of adrenaline in the body. Symptoms like swelling, tenderness, and inability to hold weight can mean that there is a bone fracture or break.
Back injuries. The violent impact of a motorcycle crash can cause serious injury to the back. Even if the pain is initially mild, it is very important to seek medical treatment. Back injuries can worsen over time, developing into debilitating conditions like a herniated disc.
Spinal cord injuries. One of the most serious injuries a motorcyclist can face is harm to the spinal cord. Spinal cord injuries can cause painful spasms, breathing complications, and extreme pain. The most severe incidents can leave a motorcyclist with partial or complete paralysis.
Road rash. When motorcyclists are involved in a crash, they are often thrown from the bike onto the pavement. Sliding across the pavement of I-55 or another road can cause a serious condition called road rash, where the skin tears away from the body. Road rash can range from simple abrasions to severe cases where the underlying tissue is exposed.
Internal injuries. Internal injuries are common consequences of motorcycle accidents. The impact may throw the rider's body into the handlebars or body of the bike, causing harm to the abdomen, chest, and internal organs.
Our knowledgeable team understands the extensive medical costs associated with these types of injuries. We aggressively pursue a settlement or verdict that allows victims and their families to secure necessary medical treatments.
Contact our knowledgeable Mississippi motorcycle accident attorneys today
The lawyers of Merkel & Cocke have more than 200 years of collective legal experience. We are prepared to represent victims of motorcycle accidents, no matter how severe the injuries. We proudly provide high-quality legal services from our home office in Clarksdale, assisting injured parties throughout Mississippi, including Tupelo, Jackson, Cleveland, Indianola, and across the Gulf Coast region. We also handle motorcycle injury cases in Tennessee and Arkansas. To schedule a free consultation, call us today at 662-627-9641 or complete our contact form.